Audio-Technica AT2020USB+ Condenser Microphone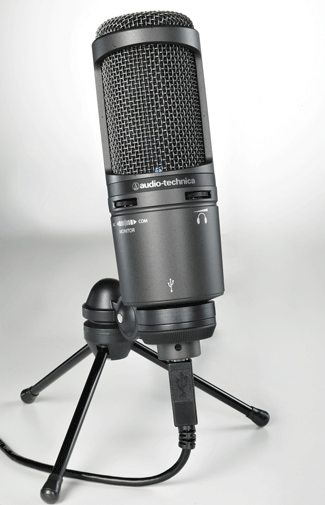 Audio-Technica's AT2020USB+ is the third variant of the original AT2020 cardioid-only pattern, side-address condenser microphone. The AT2020USB is the USB 2.0 version of the same studio microphone and now the new AT2020USB+ adds zero-latency monitoring, a stereo headphone mini-jack and mix control.
The AT2020USB+ features a built-in high-output internal headphone amplifier for plenty of volume and the mix control blends the microphone's direct signal with pre-recorded audio coming from your DAW computer, DJ rig or karaoke system. Like the original AT2020, the cardioid pickup pattern delivers an upfront presence for vocals, acoustic guitars or for voiceovers and Webcasting.
The onboard A/D converter produces 16-bit audio at either 44.1/48 kHz sampling rates and ensures compatibility with Windows 7, Vista, XP, 2000, and Mac OS X.
The USB powered AT2020USB+ includes a tripod desk stand, stand mount, USB cable and soft protective carrying pouch and sells for $279 MSRP.
For more information, please visit www.audio-technica.com.
---
Web Page design is copyright © 2013 by Barry Rudolph