Avid Pro Tools 11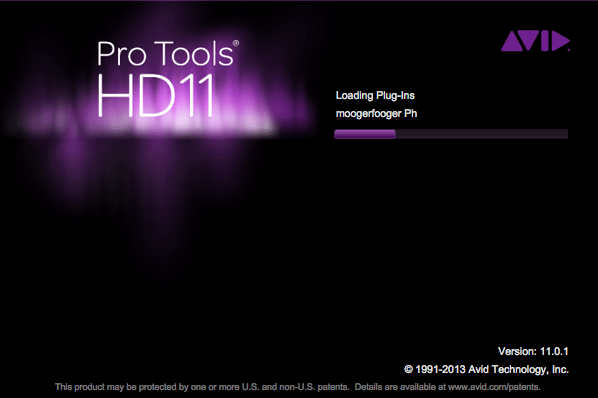 The latest version of Pro Tools is much more than an update; it is a reinvention of the most popular and by now, de facto standard in computer-based audio production. Avid Pro Tools 11 is now a full, 64-bit application with multiple times more processing power than previous versions given the same hardware configurations.
Pro Tool's 64-bit architecture necessitated a whole new Avid Audio Engine (AAE) and the new AAX plug-in format--introduced in (32-bit) within PT 10 in October 2011. The AAX format ensures that plug-ins provide exactly the same performance and sound quality when exchanging sessions back and forth between Native and HD systems running the same plug-in collections.
Pro Tools 11 requires MAC OS 10.8 or above. Thoughtfully, Avid facilitates the 'light speed' jump to Pro Tools 11 by offering it along with Pro Tools 10.3.6--a special co-installed version. If you have session projects running in 10 you can pre-process or bounce-to-disk track(s) using third-party plugs not yet available in 64-bit AAX and close 10 and import them into 11--all without restarting your computer.
Since PT11's debut at the end of June 2013, more and more 3rd party plug-in developers are unveiling 64-bit versions of their products. Pro Tools 11 comes with some 55 bundled plug-ins and several virtual instruments and soft synths.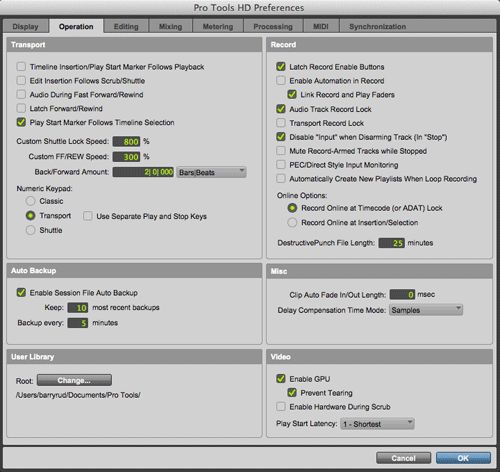 A 64-bit application allows for many more simultaneous virtual instruments--only limited by the installed RAM. There is dynamic host processing that maximizes and reallocates processing resources automatically as needed. Avid's new AAE and 64-bit made possible other long-awaited features that have been available in other DAW platforms. One is the new dual buffer; playback tracks use a dynamically set buffer for optimal performance and a variable buffer is featured for recording. Dual buffers means plug-in playback performance is not compromised and much lower latency recording can be achieved.
Now possible is offline mix bounces up to 150 times faster than real-time of up to 16 stems at the same time. Each stem can be up to eight channels wide and works with both virtual instruments and audio plug-ins. I like that you can also make a simultaneously stereo .MP3 and then (available since Pro Tools 10) send bounced audio files directly to Gobbler or SoundCloud services from pull-down menus in the GUI.
Of major interest to film/TV post engineers is that Pro Tools 11 has the same video engine as Avid Media Composer built-in and you can play and do basic editing of many HD video formats directly in the timeline without transcoding.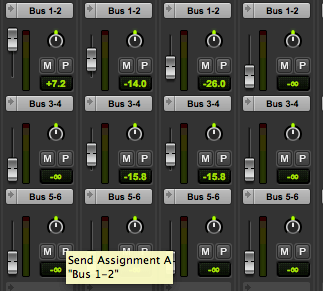 With Pro Tools HD 11 and a single card HDX process card (and up to three can installed) will handle up to 256 audio tracks. Both Native and HD systems have expanded audio level measurement metering standards selectable in Preferences. Use Digital average or VU, K-System, PPM standards plus gain reduction is shown on any track(s) that have a dynamics plug-in running.

What is brilliant are the new graphics--Pro Tools 11 takes advantage of the new Retina display in Macs for HD clarity and the ability to zoom-in in both the Edit and Mixer windows without the waveforms getting jagged and coarse. I also liked the new mini meters in the sends and inserts that instantly show activity. Plus there is the new Mini Fader feature available on all 10 sends at the same time not just one per channel. A huge matrix of sends on the mixer page is in my future!
I love the new power mixer short cuts--workflow speeded by single-handed quick keys like muting all sends and bypassing inserts together or by specific categories--mute Dynamics only on all inserts for example or all EQ, Reverb, Delay, Modulation plug-ins etc. I'm still learning all the new key short cuts like double-clicking to create new tracks.
Under the hood, the multi-pane Workspace Browser is now a 64-bit database with relational search criteria such as comments, number of channels and file duration. You can filter with advanced search parameters.
Other cool things: you can automate while tracks are in record or locked to input and access plug-in presets through right-clicking menus. There is a new AAX Native Click II plug-in, Transport Fade-In command (up to 4 seconds adjustable) prevents loud burst when relocating to un auditioned sections and linking up to 12 Pro Tools systems using Satellite is now included.

I tested Pro Tools 11.0.1 and co-installed Pro Tools 10.3.6 in my 8-core Intel Westmere Mac tower. I am running the Native version and (right now) just 12GB of RAM (8GB is minimum requirement). A 24-track mixing session with automation and plugs used only 10% total host processing resources and when I get a single HDX card installed and 32GB of RAM, I'll have a very powerful system indeed. I'm sure it will 'smoke' my old HD3 TDM Accel system with the same computer.
The list of improvements in Pro Tools 11 is long and, for me, still lots of them yet to be discovered and explored in my music mixing projects! I've had zero crashes and no weird anomalies in the last two weeks since I installed the software. Pro Tools 11 loads faster, responds more instantly to automation and editing plus is a lot more stable than any other version I've ever used. I can hear a marked improvement in sound quality using an Avid M-Box Mini and makes me want an HDX card and HD system ASAP!
Avid offers many upgrade paths from older versions. Pro Tools 10 owners who bought after April 2013 are entitled to upgrade to 11.
MSRP pricing is listed below. Check: www.avid.com/US/press-room/Avid-Pro-Tools-11-Sets-New-Standard-for-Audio-Production
| | |
| --- | --- |
| Pro Tools 11 software (full version) | $699 USD |
| Pro Tools 10 to 11 upgrade | $299 USD |
| Pro Tools 9 to 11 upgrade | $399 USD |
| Pro Tools Express to Pro Tools 11 crossgrade | $499 USD |
| Pro Tools HD 10 to 11 upgrade | $599 USD |
| Pro Tools HD 9 to 11 upgrade | $999 USD |
Here is the list of currently available 64-bit AAX plugs bundled with Pro Tools 11
1-Band EQ III
7-Band EQ III
AIR Chorus
AIR Distortion
AIR Dynamic Delay
AIR Enhancer
AIR Ensemble
AIR Filter Gate
AIR Flanger
AIR Frequency Shifter
AIR FuzzWah
AIR KillEQ
AIR Lo-Fi
AIR MultiChorus
AIR Multi-Delay
AIR Nonlinear Reverb
AIR Phaser
AIR Reverb
AIR Spring Reverb
AIR StereoWidth
Vari-Fi Speed Shifter
Compressor/Limiter
D-Verb
DC Offset Removal
De-Esser
DigiReWire
Dither
Down Mixer (5.1 to Stereo Fold Down)
Duplicate
Eleven Free
Expander/Gate
Gain
Trim
InTune Digital Tuner
Invert
Lo-Fi Retro Processing
MasterMeter Oversampling Meter
Maxim sound maximizer
Mod Delay III
Normalize
POWr Dither
Recti-Fi harmonic synthesis
Reverse
SansAmp PSA-1 Tube Amp simulator
Sci-Fi Ring-modulator
Signal Generator
Time Adjuster
Time Shift Time/Pitch Stretching
AIR Talkbox
AIR Vintage Filter
AutoPan
BF76 Compressor
UA 1176LN Emulator
Channel Strip
(Based Channel of Avid/Euphonix S5)
Click II
New Version in Pro Tools 11
---
Web Page design is copyright © 2013 by Barry Rudolph