Blue Cat Audio Liny EQ 5.0 Plug-in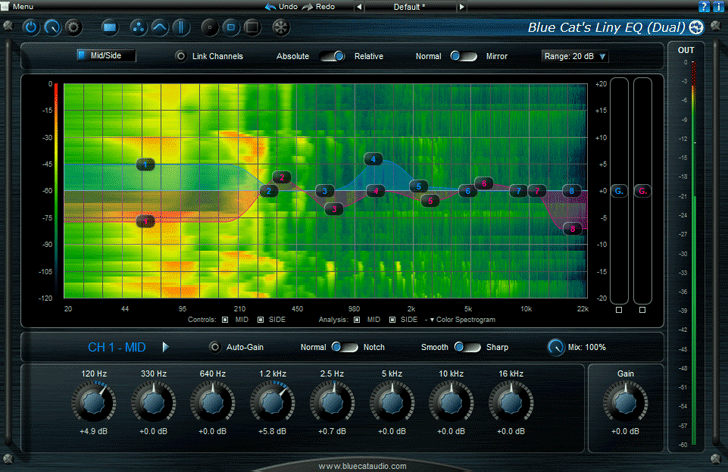 Blue Cat Audio's Liny EQ is an 8-band linear phase equalizer plug-in with minimal latency--less than 3ms at 44.1kHz session sample rates. Linear phase EQs have always had the unfortunate caveat that they require extra processing time to correct the phase shift inherent in the process of equalization. Blue Cat Audio's Liny EQ minimal latency is more than easily handled by Pro Tools HD's delay compensation engine (or any modern DAW such as Cubase or Nuendo) making it available for any instrument or vocal track in your mix. With the Liny EQ and a fast computer, linear equalization is no longer just for mastering engineers.
Blue Cat Audio has a winner here with an EQ that works like a graphic equalizer but with four different shapes available and three ranges of boost/attenuation up to 40dB! You can customize its operation for each instance in your session using any of the three different equalizers offered: mono, stereo and dual where the left and right channels can be used in linked and unlinked modes or as Mid/Side equalizers where, in addition to equalization, the stereo stage width is adjustable post recording. The new, customizable interface lets you set up the GUI very specifically to your needs and I like the way the new MIDI implementation and automation mapping works.
I also love the (selectable) premium visual feedback with EQ curves, spectrum and spectrogram displays (in color or B/W), new presets manager and the switchable Auto-Gain feature that reduces output level commensurate with the extreme boosts possible with this equalizer.
Blue Cat Audio's Liny EQ 5.0 now includes Windows AAX support and is available alone or as part of Blue Cat Audio's Master Pack. Demo versions are available for download at: www.bluecataudio.com/Products/Product_LinyEQ/ in VST, RTAS, AAX, Audio Unit and DirectX formats, for both Mac and PC (32 and 64-bit). Pricing is: (special offer until June 15th 2013) $96 (excl. VAT) instead of regular $129.
---
Web Page design is copyright © 2013 by Barry Rudolph