CAD Audio Sessions MH510 Headphones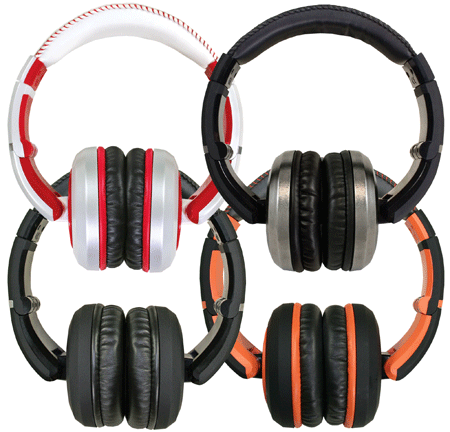 CAD Audio offers a pair of headphones with a specification sheet that rivals or exceeds that of the most expensive professional studio headphones you'd find in a world-class recording studio! The result of a decade-long collaboration of experience and professional audio expertise, the Sessions™ MH510 headphones come with features and accessories found with studio phones starting at $300.
You get an extra pair of velveteen ear cushions in addition to the included leatherette set. I like that you get both straight and curly cords and both have locking connectors to change/replace cords without soldering. Each pair comes with a leatherette carry pouch, a screw-on, 1/4-inch stereo gold-plated adapter and, just for fun, a choice of black, white/red, black/chrome and black/orange colors.
I received a pair of all black MH510 headphones and immediately plugged them into my Aphex Systems Model 454 HeadPod studio headphone box here at my Tones 4 $ Studios. The MH510s have 26-ohm impedance, 50-mm neodymium drivers with a maximum input power rating of 3000mW or 3-watts! You'll distort the Aphex amp before overdriving them!
Being able to handle up to 3-watts of power is the best headphone feature I can think of in the recording studio world where it is survival of the fittest headphones! The voice coils in the drivers of studio phones will (literally) burn out with excessive and constant volume levels--headphones blare all session long even when they lay on the floor. Combine that with the 'perfect storm' of physical abuse and accidental spikes caused by a bad connection somewhere in the signal chain and you've got another set of cans to repair or replace.
In my listening tests, I found that the MH510 headphones are built for loud playback--they have a thick overall sound with plenty of bass down to the subsonic. They are more efficient than my other studio phones--they produce more volume for a giving amount power input from the headphone amp. They are also slightly lighter weight, very comfortable and seal well over my ears for minimal headphone spill.
The super-rugged and stylish CAD Audio Sessions MH510 headphones sell for $159 MSRP and for more about them, go to: www.cadaudio.com/MH510.php.
---
Web Page design is copyright © 2013 by Barry Rudolph