CEntrance HiFi-M8 Portable DAC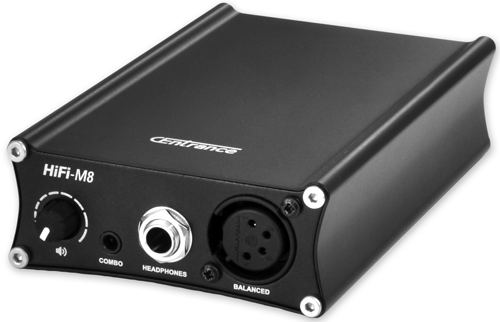 The CEntrance HiFi-M8 ("HiFi-Mate") is a portable digital-to-audio converter (DAC) with headphone amplifier. The HiFi-M8 is a battery-powered portable audiophile level DAC (6 hour battery life) useful for streaming high-resolution audio from any smartphone, tablet, laptop or iPhone and iPad.
The HiFi-M8's universality is extensible; it's offered in several models with various audio input/output configurations including USB input. All models have playback 24-bit/192kHz files--a useful feature for the itinerant music mixer, location sound recordist, FOH at live shows or any one who wants a consistency in playback DAC quality anywhere in the world.
Besides the iOS input and headphone output, you can buy the HiFi-M8 PRO with male XLR jacks and +4dBm line-level output for connection to professional equipment or get the HiFi-M8 LX model with a TOSLINK optical input to accommodate a S/PDIF input signal.
For extra sonic flexibility, HiFi-M8 offers a number of tone shaping controls to EQ and customize the sound for use with any headphones--ear buds to pro models to trendy and stylish lifestyle models.
HiFi-M8 sells for $699 while the he HiFi-M8 PRO sells for $599.99. For more information, visit www.centrance.com.
---
Web Page design is copyright © 2013 by Barry Rudolph