D'Addario XL Nickel Wound Balanced Tension String Sets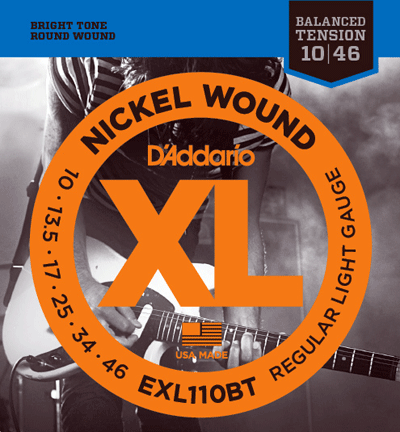 D'Addario's new XL nickel wound string sets are made to have comparable tension from string-to-string. Players not ready for this might be surprised by how much easier it is to play either guitar or bass guitar with the improved control brought on by this. You'll find playing a more balanced effort--either while fretting, bending, strumming and picking on guitar, or plucking, slapping and bending on bass guitar.
There are three size sets for electric guitar and three for bass guitar that use mathematically optimized string gauge combinations. Each balanced tension set was extensively tested with players and experts in order to ensure not only that they were balanced, yet also retained all of the inherent properties and quality expected of a D'Addario XL nickel wound set.
Balanced Tension string sets for electric guitar are (listed lightest to heaviest gauge): EXL120BT (9-40 Gauge), EXL110BT (10-46 Gauge), and EXL115BT (11-50 Gauge), and three sets for electric bass including the EXL220BT (40-95 Gauge), EXL170BT (45-107 Gauge), and EXL160BT (50-120 Gauge). Retail price is $9.90 for any of the guitar sets, and the bass sets will retail for $33.10. Check: www.daddario.com.
---
Web Page design is copyright © 2013 by Barry Rudolph