D'Addario/Planet Waves NS Micro Tuner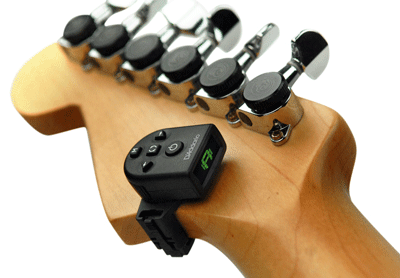 The new NS Micro Tuner is so small, lightweight and stealthy, it is nearly invisible when clipped on the back of my Fender Strat's headstock. Even when turned on and tucked out of view from everyone but me while playing, its presence becomes immediately known by its brilliant color display--visible by me only.
Planet Waves improved the ratchet clip-on design so the NS Micro tuner now looks like part of the guitar and can stay attached when you place the instrument in a travel case. By comparison, my other clip-on tuner sticks out from the headstock in a kind of dorky way so it always has to be removed and stowed.
Other improvements and updates: the tuning software has faster note recognition and accuracy by way of an ultra-sensitive piezoelectric sensor system. I like the vibration pickup of this tuner--it makes tuning easy on loud and dark stages and the simple multi-color, backlit display shows, at a glance, the note name in red to indicate when the note is out of tune and turns green when the note is in tune.
The NS Micro Tuner has an expanded calibration range from A=410 to 480Hz and there is a fully adjustable visual metronome for practicing. The NS Micro Tuner runs on a watch battery and automatically shuts off in a few minutes if you forget. I could see having one of these always at the ready on each and every guitar you use on the gig!
The D'Addario/Planet Waves NS Micro Tuner sells for $32.99 MSRP and for more information, check: www.planetwaves.com/pwNSMicrotuner.Page.
---
Web Page design is copyright © 2013 by Barry Rudolph