Damson Audio Twist Portable Speaker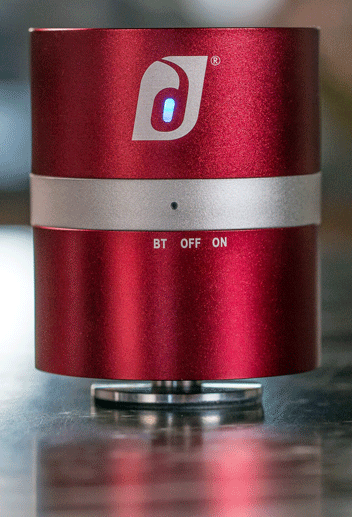 It's not often I get a product for review as innovative as the Damson Audio Twist, a portable powered speaker that works via Bluetooth or more conventionally, using a stereo analog mini jack input. The 'twist' is that this stylish aluminum cylindrical speaker, at about 3-inches tall and 2-inches in diameter, makes very little sound until you set it on a surface--wood, plastic, glass, a desktop or table. Immediately loud, wide-range sound fills your space with a powerful bass that belies its diminutive size. Enough bass, that at full volume, will rattle nearby objects on whatever surface you're using.
The Damson Twist uses resonance technology instead of a conventional speaker cone to produce sound. Called Incisor Diffusion Technology, rather than move the considerable amount of air molecules required to produce loud sound waves, the unit has a transducer in its base that couples the audio output's vibrational energy directly to the surface it rests on. In that way sound waves are pushed across the surface and heard loud enough to easily fill most rooms in houses and hotel rooms. The more freely a surface can vibrate, the louder and with more fidelity the sound is acoustically amplified.
I placed the Twist on a small antique Chinese "chop" table in my living room. I like that there are no fiddly and small slide switches--the entire upper half of Twist rotates from center position (off) to either Bluetooth operation (left) or analog line input operation (right). A dual-color LED lights to indicate which mode you have functioning and a short tone is emitted indicating successful Bluetooth pairing.
I paired up to my iPhone 4S but it'll work with any laptop, smartphone or tablet the supports the A2DP standard.
It was amazing! There was enough audio power that certain loose sections of my old table would buzz with certain bass notes of the music. I moved Twist over to my more massive dining room table and not only did the buzzing disappear but I gained more, richer and deeper bass. Placing it on the lid of my baby grand was awesome and even louder!
The Damson Twist comes in your choice of four candy metallic-colors (candy red pictured right), runs for about 9-hours on an internal battery that's rechargeable via its mini-USB jack and there are analog 1/8-inch mini input and output jacks for serially connecting as many Damson Twists as you want.
The Damson Twist sells for $69.99 MSRP and is a definite travel accessory to rock my next hotel stay! Check: us.damsonaudio.com/products/twist/
---
Web Page design is copyright © 2013 by Barry Rudolph