dbx PMC 16 Personal Monitor Controller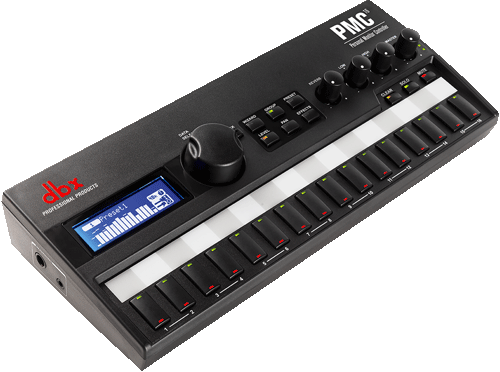 dbx's PMC 16 Personal Monitor Controller is the ultimate headphone or monitor speaker mixer; you can control up to 16 channels of audio from anywhere on a live stage or in the studio. Multiple PMCs can be used in an audio system with each user creating his own, unique mix. In addition, the PMC has EQ, panning controls, a variable stereo width control and a choice of built-in Lexicon® reverbs and effects you may add to your own taste.
I like its ability to save all settings in up to 16 user-presets--a very handy feature for sharing PMC controllers with other musicians or storing separate presets for each song on live stages. The PMC works with traditional on-stage monitor systems, powered personal monitors, in-ear monitors, and headphones. Up to 60 PMC units can be used at the same time.
The dbx Personal Monitor Controller uses a BLU link audio bus (digital audio over Cat 5 networking cables) from the dbx TR1616 Rack mounted 16 X 16 Digital I/O ($2,999.95 MSRP) or any BSS London system. It has a bright LCD screen and Wizard set-up and configuration utility. All inputs and outputs are provided, and its integrated mic stand mount facilitates placement on stage. The PMC has a large channel ID strip that can be written on with a dry-erase marker, making it easy to label channel inputs.
There are two XLR outputs for connecting to amplifiers and powered wedge monitors and two 1/4-inch outputs that'll connect to any balanced or unbalanced line level device such as in-ear transmitters or recording devices.
The PMC can be configured to operate with either 48kHz or 96kHz D/A conversion. Its built-in dbx PeakStop™ limiting prevents the possibility of signal overload and the system has a USB port, DSC and Ethernet port for future updating and expansion.
Each dbx PMC 16 unit sells for $749 MSRP and for much more about the whole system, check: www.dbxpro.com/en-US/product_families/personal-monitor-control.
---
Web Page design is copyright © 2013 by Barry Rudolph