eMedia Singing Method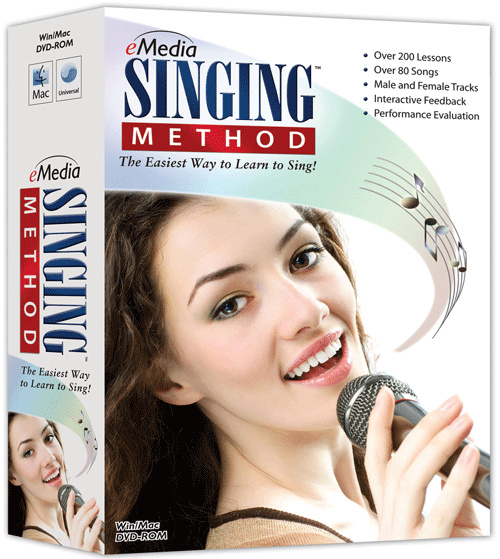 eMedia Music takes advantage of fast, modern computers with their eMedia Singing Method. It uses Interactive Feedback technology that actually listens as you sing and tells you whether you are singing too sharp, flat, or spot on--right in tune. Even if that was all it did, most novice singers would love it but add the Performance Evaluation system that listens and gives you specific feedback makes it irresistible!
There are over 200 short lessons starting with proper singing techniques, singing in time, and in tune. Further lessons covering how to project your voice, increasing your range, vocal agility, expression, and sight-reading follow. You can sing along with about 80 included songs--some actual tracks and also MIDI files for playing your own sounds. eMedia Singing Method covers folk, pop, jazz, R&B, opera, classical and show tunes including contemporary hits made famous by John Lennon, David Bowie, Mick Jagger, Diana Ross, and more.
I liked the video animations and that you can loop more difficult sections--repeat them for practice and to develop your ear. Doing these lessons in the privacy of you home is great a way to learn to sing and self-improve at it on your own.
eMedia Singing Method DVD-ROM, a hybrid for both Windows and Macintosh platforms, sells for $59.95. It ranks high right up with eMedia's flagship titles, the best-selling eMedia Guitar Method and eMedia Piano & Keyboard Method. Check: eMediaMusic.com.
---
Web Page design is copyright © 2013 by Barry Rudolph