Exponential Audio PhoenixVerb and R2 Reverb Plug-Ins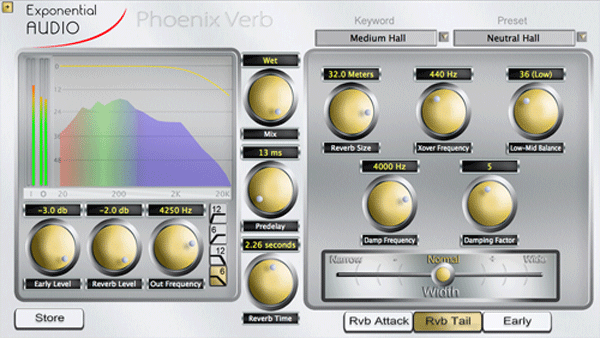 PhoenixVerb and R2 are two new reverb plug-ins from Salt Lake City-based Exponential Audio's Michael Carnes--the designer of Lexicon Pro's 960L, PCM96 and PCM plug-ins.
PhoenixVerb ($199--ver 1.3.01 tested here) is an incredible reverberation synthesizer that produces natural and realistic room, plate, chamber and hall reverbs. Presets are arranged by keywords or categories. Category Large Hall would list presets or descriptors by applications typically within that keyword category. For example, a preset called Large Narrow Neutral Hall would show up in the Large Hall category. This arrangement lets you see different applications of the same presets within the range of multiple categories. Know that you can rename and build your own categories or just view at once all presets in a very long list!
Immediately I found PhoenixVerb to become my primary go-to reverb when starting a new music mix in Pro Tools 11. PhoenixVerb's GUI (as well as R2's) has a complete set of easy-to-grab (click and drag) control knobs with individual parameter direct-entry windows. Global parameters like Wet/Dry Balance, Pre-delay and Reverb time are 'center stage' in the GUI with controls for Early Reflection, Reverb Level and Output roll-off filter frequency adjustment residing just under the pretty Live Spectrum analyzer display window. (This window does use more DSP and I only turn it on when the producer walks in to check on my progress)
I like the way PhoenixVerb and R2 are organized in a screen space-saving way. PhoenixVerb has three parameter panes or panels for adjusting the basic character and nature of the synthesized reverb. There are separate panels for editing Reverb Attack, Reverb Tail and Early Reflection parameters. The default panel is for Reverb Tail tweaking and I especially liked the stereo width control slider for setting the reverb's image spread from narrow (mono) to super wide stereo imaging beyond the left and right speakers. I checked the mono compatibility of the effect when set super wide and it's acceptable.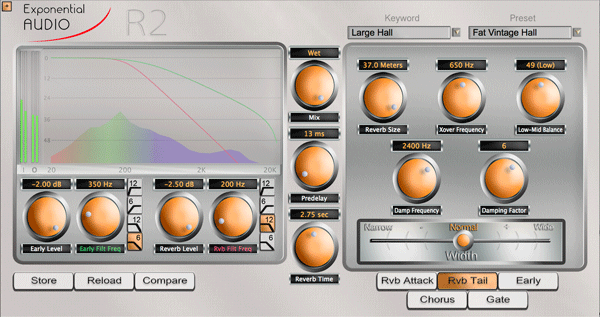 R2 ($299--ver 1.3.01 tested here) is called an active character reverb because it is designed to add coloration--even quirkiness with its additional chorus and gate processor modules. Its GUI has similar global parameters but adds two extra edit panels called Chorus and Gate. I found the Chorus to add a subtle touch of modulation to the reverb sound in a very mellow and beautiful way. There are adjustable Rate and Depth controls and a slider for the type of the modulating wave.
The Gate panel's parameters work well for devising quirky reverb effects such as slow attack reverbs and sudden-gated reverb effects. It's easy to come up with unique or matching ADR environment treatments and 'broken sounding' effects that act randomly. I've been having fun creating unusual effects for vocals and solo/melodic instruments that now occupy a brand new spotlight within my mixes when processed with R2 as an inserted effect--not parallel, send/return.
Both plug-ins are available for MACs and PCs in AU, VST, RTAS and AAX formats including AAX64. Each plug-in comes ready to work with hundreds of well-organized presets as well as a comprehensive EuCon implementation. With so much control over the exact way reverberation sounds in my mixes, PhoenixVerb and R2 are must-have plug-ins. For more information, demos, or to purchase, visit: www.ExponentialAudio.com.
---
Web Page design is copyright © 2013 by Barry Rudolph