FabFilter Pro•MB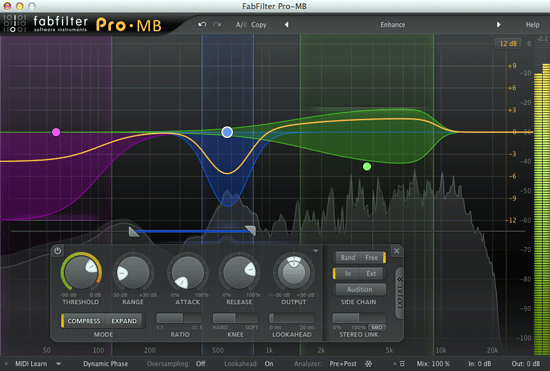 FabFilter Pro•MB is a multi-band compression/expansion plug-in for mastering and/or individual tracks in your mix. You can apply compression or expansion to vocals, synth sounds and drum kits--any track with up to six processing bands that are freely adjustable anywhere in the audio band by dragging them around.
FabFilter Pro•MB is capable of linear phase and minimum phase processing modes and their new Dynamic Phase processing mode minimizes excessive phase shift of static bands at crossover points when large amounts of processing is used in other adjacent bands.
FabFilter Pro•MB's beautiful GUI lets you easily create frequency bands you'd like to either expand or compress individually and then also automatically generates crossover points from band-to-band whether you use just one, two or up to six bands. You can drag the crossover point at will and the crossover slope is adjustable between 1st order 6dB/octave up to steep, 48db/octave. When desired, bands can easily be snapped together to form a traditional crossover system.
Each band of dynamics processing can be transparent for mastering or radical sounding for pumping upward compression and punchy gating. There is an external side chain key input for triggering defined by a certain frequency range. EDM pumping effects are easy to do and sound amazingly clean.
Each band has fully adjustable and separate controls for threshold, range, attack, release, output gain, ratio, variable knee, look ahead (up to 20 MS), variable stereo linking, mid or side-only processing. M/S lets you put a particular band's processing only on the Mid (mono) or the Side (the L/R) components of the stereo sound. I'm still experimenting with this feature but so far it's awesome for spreading the Side component outside of the speakers. I've been using this effect and plug-in automation to selectively add this widening effect in song sections I wanted more ambient and wider.
I've been using Pro•MB for acoustic guitar rhythm parts when I want power from the percussive lower strings but without excessive bass buildup and thump. I compressed a pair of L/R acoustics in a narrow band centered at 180 Hz and also (using much less compression) at another band centered at 750Hz. This combination produced a fat acoustic sound with a certain urgency I was missing from those tracks when they were mixed in with the electric guitars also playing in the same frequency area.
I'm still discovering Pro•MB and so many ways to use it in my mixing--yes, there is a learning/experimentation curve but well worth getting into because the rewards are great!
FabFilter Pro•MB is now available for $229 supports both Windows and Mac OS X in VST and VST 3, Audio Units, AAX, RTAS and AudioSuite plug-in formats. I'm running it in Pro Tools 11 as AAX 64-bit and loving it! www.fabfilter.com/shop.
---
Web Page design is copyright © 2013 by Barry Rudolph