Fishman TriplePlay Wireless MIDI Controller For Electric Guitar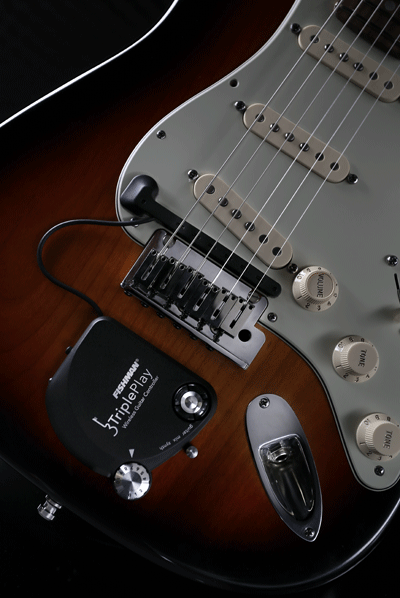 Fishman TriplePlay® is a wireless MIDI controller for electric guitar. You can directly control any USB compliant device capable of receiving MIDI input. TriplePlay will play any virtual synth or drum machine running in your computer's DAW, or work as a standalone and self-contained live performance instrument playing the included soft synths, and then mix in or switch to, at any time, your guitar's sound during live performances.
Designed for electric guitars, the TriplePlay controller and its hex pickup mount on your guitar and there are several mounting systems included to fit most guitars without modification or damage to the guitar's finish. For the lowest possible latency, TriplePlay uses 2.5GHz ISM (industrial, scientific and medical) radio frequencies to transmit your performance data to a USB receiver dongle plugged in back at your computer. The controller has an USB-rechargeable battery and runs about 20-hours on a charge.
The TriplePlay software is compatible with 32 bit and 64 bit Windows 7 PCs or higher and Mac OSX 10.6.8 or higher. The GUI has five sections and all setups, configurations and synths utilized are stored as patches. The Patch section is for loading/storage patches and setups of instruments and fretboard layouts including "splits" or zones you've set up--you may have a different synth on each string. The Fretboard area also shows the notes you are playing in real-time.
The Sensitivity/Tuner area calibrates your guitar's intonation and individual string volume--relative to the synths(s) you're playing and your own particular style--it also remotely reads the charge level of the controller's battery. The Mixer section lets you individually adjust the panning, level, mute of any and all of the four soft synth channels and the guitar channel for mixing in the guitar's sound itself--you would route the guitar's signal (direct or through your pedal board) into your DAW and it would show up on the TP's mixer.
I mounted the hex pickup behind the bridge pickup of my Strat and after syncing to the receiver dongle, it all just worked--first time--in fact days later, I just turned it all on again and it worked immediately without re-syncing.
I found it to be sensitive enough to pickup string tapping, very responsive and it tracked super accurately. There is some tweaking time required to optimize the pickup to your guitar and it would be time well spent to preconfigure patches and string sensitivities. All are saved in the patches and there are warnings to save patch edits before changing. Different synth patches and styles require different setups of sensitivity and other parameters to maximize the sound.
Besides using your computer's mouse, patches changes and navigating the TP software GUI are made from the TriplePlay controller's D-Pad's four momentary buttons. Also performance-oriented is the controller's guitar/synth switch for selecting to play either the synth(s) or the guitar's signal or both together at the same time while playing. Plus the controller has an onboard master output level control for the mixer for doing "on-guitar" volume swells real-time and with the ability to assign it to MIDI CC80 for an external MIDI volume pedal. Sweet!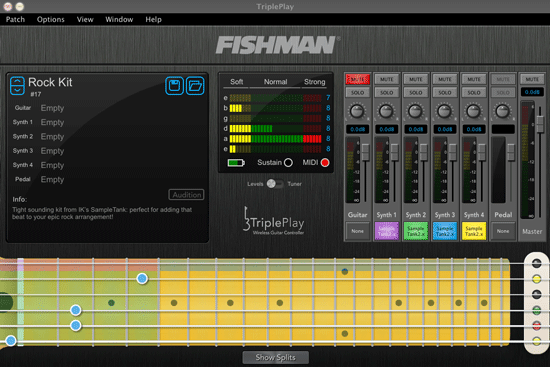 I ran it as a standalone performance instrument playing sounds from SampleTank 2.5 XT, one of five pieces of software that came with TriplePlay--that's about 10GB of files to download!
Besides SampleTank 2.5 XT and the Fishman TriplePlay software ver 1.1 with its over 50 improvements and new features, you get Native Instruments Komplete elements with Kontakt sampler, Reaktor and Guitar Rig; Notion's Progression--notation software optimized for guitar; and Presonus Studio One DAW for recording and playing your performances.
There is a new Basic Enhanced Mode for iPad GarageBand users to easily activate Pitch Bend. Factory patches can use Komplete sounds and the new Import/Export feature allows the transfer of patches from one TriplePlay installed computer to another.
Other noteworthy improvements for the TriplePlay software are automatic notification of new software updates and releases, improved Encoder/Receiver communications to ensure greater connection stability, improve scan time and accuracy, and more stable operation in Cubase and Ableton Live 9.
If you've been holding back on factoring into a guitar controller system, TriplePlay is the most modern, flexible and well-thought out system with the best implementation yet and a great way to get started. It sells for $399 and for more about it, go to: www.fishman.com/tripleplay.
---
Web Page design is copyright © 2013 by Barry Rudolph