Fostex PM0.3 Powered Monitors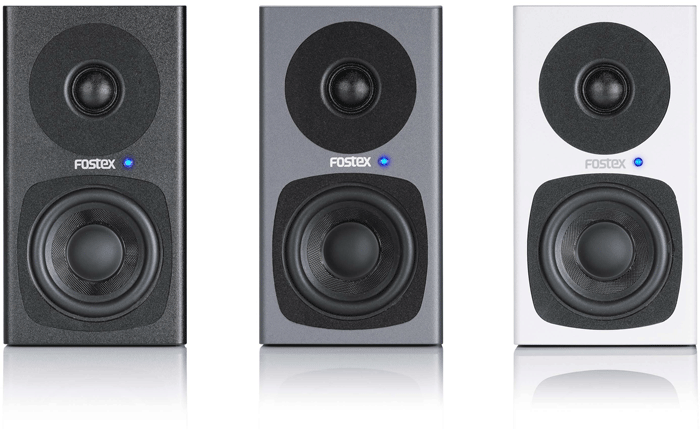 The very cute PM0.3 powered monitors have a three-inch fiberglass cone woofer and a 3/4-inch silk dome tweeter. They measure: 100mm (W) x 185mm (H) x 130mm (D) and come in black, gray and white colors (as pictured) with a smooth, matte finish. The Fostex PM0.3 monitors are the perfect size for using with your iPhone, portable mp3 player or in your studio for a quick "reality check" that your mixes translate---they'll still sound good outside of the recording studio.
Connectivity is no problem with two ways to hook them up: standard L/R channel RCA jacks and a stereo mini jack. They have a built-in 15-watt Class-D power amp and run on an included 15-volt external power supply.
I like their hardwood construction, styling and the blue power-on LED looks swank. The PM0.3 system is priced at $129.99 per pair and for much more, check: www.fostexinternational.com/docs/products/PM0.3.shtml.
---
Web Page design is copyright © 2013 by Barry Rudolph