Mackie DL806 8-Channel Digital Live Sound Mixer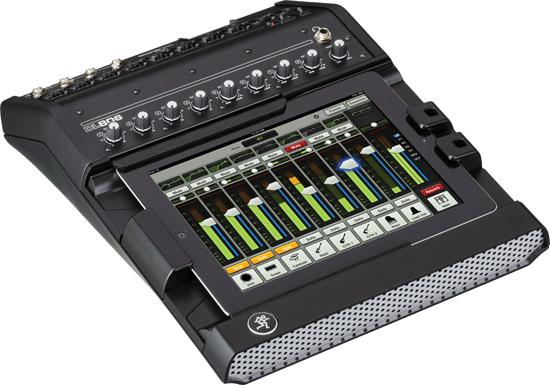 The 8-channel Mackie DL806 is a very slightly scaled down version of the DL1608 16-channel digital live mixer. Both feature control and mixing using the My Fader™ app for either iPhone/iPod Touch or the Master Fader™ app for iPad.

An iPad will slide into the DL806 and, like the other iOS devices also connects/controls wirelessly via WIFI. The wireless setup is easy to do using your existing WIFI router and you can mix from anywhere in the room using up to ten, iPad, iPad Mini, iPhone or iPod touch devices at the same time.

Like the DL1608, the DL806 is useful for individual stage monitor mixes or, as I envision using it, individual headphone mixes for musicians in the studio.

The DL806 has eight Onyx mic preamps (instead of the DL1608's 16) otherwise the same technology under the hood: 24-bit Cirrus Logic® AD/DA converters, four-band EQ, dynamics, effects plug-ins and the 31-band GEQ graphic on the stereo main bus.

On the DL806, there are four aux sends (instead of six on the DL1608) for monitor mixes, Master L/R output, gate and compression plug-ins on all inputs, comp/limiter on outputs, global reverb and delay, preset and snapshot recall, and direct stereo recording to your iPad when docked in the DL806.

The DL806 will be available by the end of April, 2013. Much more at: www.mackie.com/products/dlseries/.







---
Web Page design is copyright © 2013 by Barry Rudolph