Mackie DLM System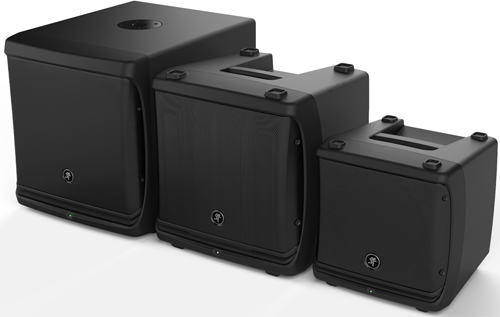 Each of the new Mackie DL/DLM powered full-range loudspeakers are standalone PA systems that can be setup pole-mounted for mono/stereo sound reinforcement, used as floor wedges with the built-in 'kickstand' or even wall-mounted for fixed installations.
Standalone? Both the DLM8 and DLM12 are full-range, 2,000-watt powered loudspeakers (here pictured along with the DLM12S subwoofer) that have a Mackie DL2 digital mixer built into the back panel giving you full control over a dual-channel mix with three-band EQ and 16 programmable effects--reverb, delays, echo.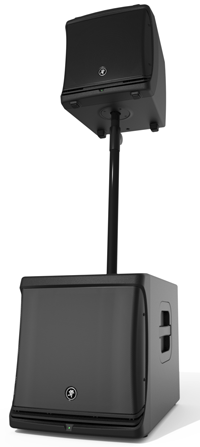 You can plug-in any combination of two audio source inputs directly into the back of the DLM powered loudspeakers--such as an XLR microphone and/or 1/4-inch cable from your guitar. Or plug-in the line level analog outputs of any mixer--like Mackie's DL1608 and DL806 mixers that use one of Apple's iPad for mixing, plug-in processing, recall automation and wireless control over WIFI from anywhere in the venue.
Using the Mackie DLM system simply for an impromptu busking gig or all the way to a loud, multi-speaker system for a pro club stage is easy--with both the DLM8 or DLM12 loudspeakers featuring a multi-band feedback destroyer and six speaker modes to dial-in the best sound.
Other practical advantages are: easily grow the size of system by adding the DLM12S sub or additional DLM8 or DLM12 loudspeakers as required, there is a 20% reduction of size and weight, and additional configuration options include wall mounting and rigging points for "flying" them above the audience.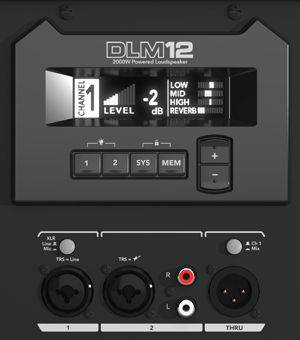 Both the DLM8 and DLM12 are two-way loudspeakers that use Mackie's TruSource concentric driver with high-output woofer (8 or 12-inch) and 1.75-inch compression driver. They have indestructible PC-ABS cabinets with powder-coated metal grilles.
The DLM12S sub is also rated at 2,000 watts and its integrated DLP Digital Processor provides system tools like a variable crossover, different speaker modes for optimum voicing and system protection. The cabinet is made from 15-mm thick poplar and has an integrated pole-cup for mounting a DLM full-range loudspeaker above it.
A typical DL/DLM system would have two DLM12s mains (left and right stage) each pole-mounted above a DLM12S and then two additional DLM8s (or more) deployed as floor wedges. The DLM8 are $879.99, DLM12 $1,059.99 and the DLM12S at $1,249.99. Check: www.mackie.com/SimplyAdvanced.
---
Web Page design is copyright © 2013 by Barry Rudolph