Mackie MRmk3 Studio Monitors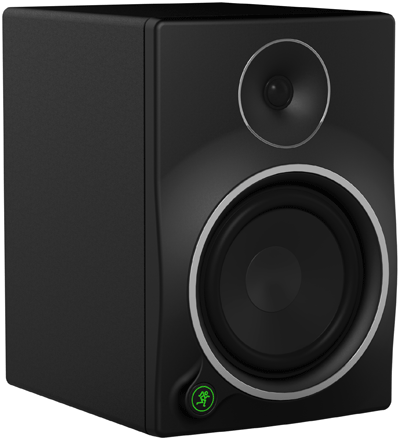 Mackie's MRmk3 powered studio monitor line uses their "Music-Centric Voicing" process said to acoustically optimize them for truthful monitoring throughout all the stages in music production in any home/project studio from tracking to overdubbing, editing, and mixing. The new MRmk3 line replaces the previous generation of 5-inch and 8-inch Mackie monitors and adds a third, in between size, the 6.5-inch MR6mk3 monitor and also the new MR10Smk3 powered subwoofer.
The MRmk3 all-wood cabinets have custom-tuned rear-firing bass reflex ports plus their smooth and sculpted surfaces/corners enable a smoother transition of the high frequencies coming from the 1-inch silk dome tweeter down to the woofer's low frequencies. The new cabinets are a stylish addition to my control room sitting on my Sound Anchor stands with their silver-ringed drivers and lighted Running Man Mackie logos.
The three models of MRmk3 Studio Monitors are: MR5mk3 with a 5.25-inch woofer and 50-watts of total power; the MR6mk3 has a 6.5-inch woofer and 65-watts; and my choice for review are the MR8mk3 with 8-inch woofer and 85-watts of power. I also received an MR10Smk3 powered subwoofer with 120-watts and 10-inch glass aramid composite woofer to complete my 2.1 monitoring system.
All three studio monitors are 2-way active loudspeakers that use Class A/B amplifiers, the same 1-inch silk dome tweeters and polypropylene woofers. The commonality of the tweeters and amplifier design makes these monitors an easy choice for outfitting an audio facility with several rooms--editing bays, recording, mixing, dialog editing, sound design studios that would require monitoring appropriate to their various room sizes yet with a similar and consistent sound signature.
My Tones 4 $ Studios is a project studio just 12 feet deep and 10-feet wide and it rocks with this system. I immediately noticed the wider listener "sweet spot" that pleased the artists and musicians sitting in on my mixing sessions. The MR8mk3s ended up being about 45-inches on center from each other and both the same distance from the left and right sidewalls with the listening position in front of them directly on the centerline of my room width wise.
The Mackie MRmk3 Studio Monitors have three, adjustable levels for the low frequencies, 0, +2 or +4dB and there is also a +/- 2dB boost/cut switch for high frequencies. I left those controls at unity and I'm finding little need to change them in my control room as it is acoustically treated with many absorption panels, diffusers and corner bass traps.
I like the number of I/O options--balance XLR, TRS or unbalanced 1/4-inch--this feature let me configure the system anyway I wanted with plenty of gain whether connected to my Cranesong Avocet Monitor Controller using balanced XLR connectors or directly to my Avid Mbox interface using 1/4-inch TRS plugs.
I was up and playing music immediately by just following the .pdf instructions--the subwoofer has a polarity flip to get the bass in phase--I placed it in the same horizontal plane and equidistant from the left and right MR8mk3 monitors.
For the MR8mk3s, the manual recommends setting the subwoofer 12dB/octave high pass filter frequency to 40Hz but it is variable up to 180Hz for use with smaller speakers. The 8-inch woofers in the MR8mk3s produce bass very well on their own with the MR10Smk3 contributing deep subsonic content especially when playing loud kicks and synth bass tracks in solo. The ability to play loud low frequency tracking elements while tracking and mixing is something I miss from the legacy control rooms I grew up in with soffited monitor systems with large double 15-inch woofers. In my small space, I can now play a rock drum kit near realistic volume levels--the volume at which that instrument is played and recorded.
Modern Hip Hop or EDM music producers or any low frequency-centric music aficionados will love this system! The level of the sub depends on the Input gain control setting on the two MR8mk3s monitors since the stereo audio signal passes through the sub on the way to the left/right monitors but there is a separate subwoofer level control on the back of the MR10Smk3 powered subwoofer if you want more or less. I ended up setting the sub to "0" or unity at first--so far this is working well but you decide the sub level for your particular speakers in your studio.
I love using the Mackie MRmk3 Studio Monitors set up as a 2.1 stereo system in my project studio! I've shelved my previous set of super expensive monitors I was using and running these--they sound great!
The Mackie MRmk3 Series Powered Studio Monitors are priced at: MR5mk3 at $199.99 each, MR6mk3 $259.99, the MR8mk3 at $329.99 and the MR10Smk3 powered subwoofer sells for $449.99. www.mackie.com/products/mrmk3-studio-monitors/.
---
Web Page design is copyright © 2013 by Barry Rudolph