Mogan Microphones Elite ICE Omni Earset Microphone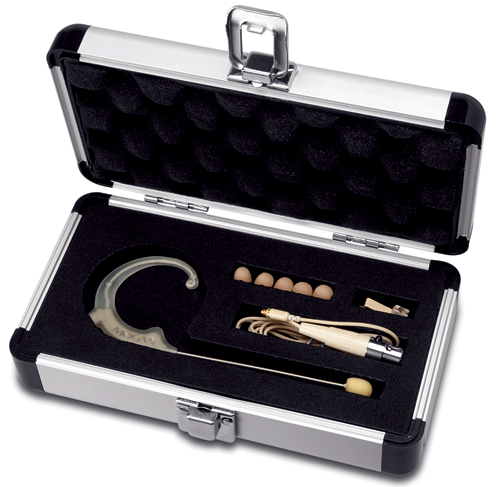 The new Mogan Elite ICE Omni Earset microphone is a nearly invisible, head worn omnidirectional condenser microphone. Its moisture-resistant, 2.5-mm capsule element, foam windscreen and lithe yet flexible boom are flesh colored and it all fits so comfortably, it feels invisible on my ear as well. Comfort comes from the new Invisi-Clear Earpiece (ICE). This is the industry's only transparent earpiece making the Mogan Elite ICE hard-to-detect when worn by actors on stage or on camera because it blends with the user's skin tone so naturally.
The Mogan works with a variety of interchangeable cables to connect to most of the popular wireless transmitters from Shure, AKG, Sennheiser, and Audio-Technica. Each microphone comes with a detachable, Kevlar®--reinforced cable with hardwired connector.
I tested the Mogan Elite ICE using an XLR adapter cable to plug into my studio microphone pre-amp. It (of course) requires phantom powering and I used around 35dB to 45dB of gain to get full recording level into my Pro Tools HD 11 rig. The ICE capsule has a -45 dB nominal sensitivity and may be positioned at any distance from my mouth without excessive low frequency buildup. I also found it to sound neutral without excessive high frequencies to deliver a natural, resonant sound quality.
The new Mogan Elite ICE Omni Earset Microphone sells for $400 MSRP and ships in an impact-resistant, specially designed aluminum case with beige boom, a set of interchangeable hypoallergenic foam windscreens (for different users), a single cable clip. For much more check: www.moganmicrophones.com/.
---
Web Page design is copyright © 2013 by Barry Rudolph