On-Stage U-Mount System for iPads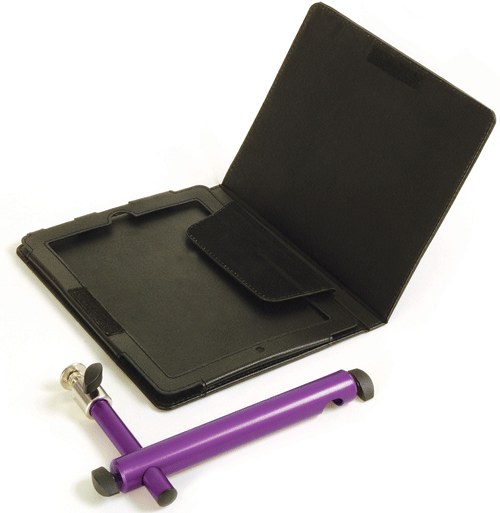 On-Stage's U-Mount System is part of the OSIM series of products including the TCM9150 Tablet Mounting System, TS9901 Heavy-Duty Tablet Stand, and the TS9900 Compact Tablet Stand. Each sold separately, the modularity of this system design means you only buy what you need.
On-Stage has it figured out; your iPad1 or iPad2 does not have to be pulled out of the protective cover that most iPad owners buy. I know I'm less likely to bother "unwrapping" my iPad2 every time I want to use it for a music app.
The TCM9150 functions as a dedicated cover with slots cut for the camera, speaker, 30-pin I/O connector just as any cover you might pay over $100. This unique protective case has a threaded 8-mm insert on the back that mates with an anodized aluminum arm system.
Fully adjustable, you can rotate, tilt, and make horizontal, and vertical adjustments to get the iPad just right! Its elliptical clamp mounts to any On-Stage Stands mic stand or similar structure; it even mounts to flat edges like tabletops and rack cases.
Check: onstagestands.com/products/brand/On-Stage%20uMount for more information and configurations.
---
Web Page design is copyright © 2013 by Barry Rudolph