Pure's Jongo S3 Wireless Speaker System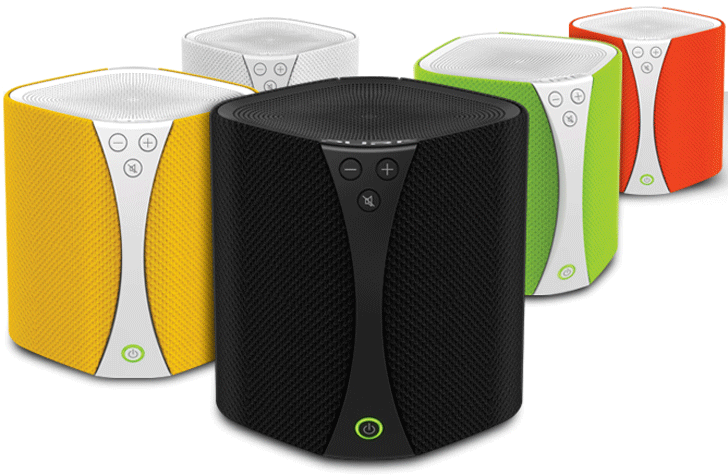 Pure's Jongo S3 wireless speaker is a portable powered stereo speaker that allows music to be streamed over WI-FI to as many Jongo speaker products as you'd like at the same time and in perfect synchronization via the free Pure Connect iOS or Android app (iPhone, iPad and Android devices). Jongo is a standalone Internet appliance because it connects to your WI-FI router's network and gives you access to music tracks via the Pure Music subscription service or access to local music streaming from your smartphone or tablet (including iTunes) over either Bluetooth or Wi-Fi.
The Jongo S3 speaker measures 131W X 139D X 135mm H and has a combined 20-watts of audio power to drive four, ¾-inch high frequency drivers for firing sound in 360-degrees plus a 3.5-inch upward-facing, mid/bass driver. There is a front mounted +/- volume, mute and a combined power/operational status indicator/button. Jongo's rear mounted 1-inch LCD screen has a graphical representation of the four modes you can program the sound projection for each Jongo(s) specifically to where and how it is used in your house. For bookshelf placement choose Stereo Forward Facing for conventional L/R speakers; Mono 360 sound mode pumps mono audio out all five speakers; Stereo 360 sound uses two pairs of stereo speakers for front and the other two for rear projection; and Outdoor boost jumps up all five speakers at once.
I paired my iPhone and iPad over Bluetooth to stream music to a Jongo S3 with no hassle at all. It uses a BT USB dongle plugged into the Ethernet jack and has a greater range of operation than I've experienced with other BT speakers. If you add your multiple Jongo S3 speakers to your WI-FI (or wired with adapter) network, then the party gets started because each can log on and receive the same music mix from Pure Connect--a blend of Internet radio and music--in every room and even outside because of their built-in 10-hour rechargeable battery.
Each Jongo S3 sells for $199 (MAP), comes in black or white with optional, snap-on colored grill packs in burnt orange, lime green, mango or white ($29.99 MAP) to customize--color-coordinate your Jongo S3s. I liked the burnt orange grills on my black Jongo. Pure is a division of Imagination Technologies Group plc. For more about their whole line of sophisticated Jongo music products I'm just finding out about, check out: www.pure.com/us/products/wireless/.
---
Web Page design is copyright © 2013 by Barry Rudolph