Shure SRH1540 Headphones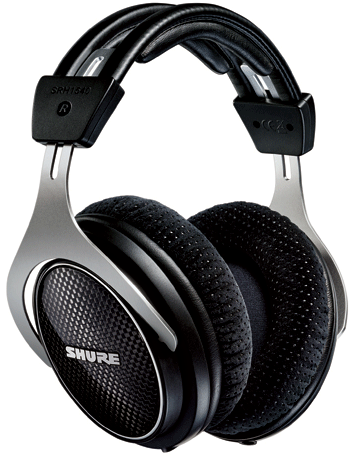 If it were not for my mix playing out of these new Shure SRH1540 headphones, I wouldn't even know they were on my head! The very comfortable SRH1540s are closed-back headphones with plush, Alcantara® ear pads that feature super lightweight construction. These circumaural headphones use an adjustable aluminum alloy headband with stylish black padding. There are rigid carbon fiber ear cups that surround the left and right 40-mm neodymium drivers each mounted within an internal steel frame assembly. Inspired by the Shure SRH1840s, the SRH1540s are for professional studio use, critical mastering/reference applications, and audiophile listening.
Being a closed-back version of the SRH1840s, you'll have maximum sound isolation for hours of comfortable listening. I found them to be smooth in the high frequencies to sound warm and musical overall--even at loud listening levels. With them I could hear deep into my mixes and I like them to check and compare subtle details in my mixes to what I hear from my analytical-sounding main monitors.
I prefer the soft ear pad material of the SRH 1540s rather than the typically used black leatherette material that, over time, easily gets tattered around my Tones 4 $ Studios. I also liked the way the main cable splits into separate left and right cables that snap into the individual drivers using color-coded gold-plated MMCX connectors--this is an audiophile touch that works for me.
The SRH1540s come with a ¼-inch gold adapter, a set of replacement ear pads and two sets of connecting 1.83-meter cables in a semi-rigid carrying case that keeps the whole kit together and protected. A great tool and good studio investment, the SRH1540 headphones sell for $499 MAP.
Check: www.shure.com/americas/products/earphones-headphones/headphones/srh1540-premium-closed-back-headphones.
---
Web Page design is copyright © 2013 by Barry Rudolph