Tascam DR-40 Handheld 4-track Digital Recorder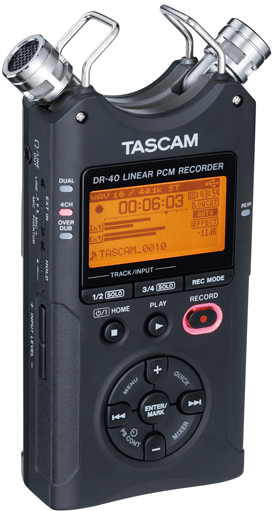 The DR-40 is a handheld 4-track digital recorder with many professional features that transcend past expectations of the lowly field recorder. The "Dual Record Mode" allows for a simultaneous back-up safety recording at a (pre-set) lower level in the event that unexpected audio peaks occur that overwhelm your initial record level settings and distort the recording. This is a great 'insurance policy' for the location sound recording engineer--now all field-recorded audio is useable--nothing lost due to distortion!
I also thought the ability to overdub to an already recorded backing track right within the unit is brilliant. This is great for capturing those "on the spot" lyric or instrumental ideas--moments of inspiration in the process of songwriting. You would have the track stored and played from the DR-40 ready to add your ideas. The DR-40 records up to 96kHz/24-bit or directly to MP3 plus you can move audio files to your computer via a USB 2.0 connection.
Being a four-track system, at live shows why not record the FOH board mix through two channels and at the same time record the room sound/ambience with the fully adjustable cardioid X/Y stereo mics on top of the DR-40? There are the XLR-1/4-inch combo inputs with phantom power also available.
The DR-40 runs for 15-hours on three AA batteries, has loads of external controls and features TASCAM's non-menu intensive operating system. There are lots of accessories available and it includes a 2G SD card.
The DR-40 sells for $279 MSRP. Much more at: www.tascam.com/product/dr-40/.
---
Web Page design is copyright © 2013 by Barry Rudolph