Tech 21 SansAmp Blonde Deluxe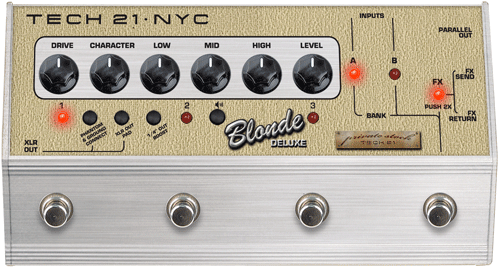 The SansAmp Blonde Deluxe is the analog Blonde pedal with digital control for storing and recalling your settings. You can tweak away--dial in your sound and then double-tap the footswitch to store up to six sounds from clean to mean.
The fully adjustable Character control is like the Back To The Future knob in the DeLorean for getting sounds ranging from '50's tweed, blonde to blackface and then the silver face family of amp styles. Dual inputs allow you to have two instruments on-line at one time and with six program locations, you can create three custom tones for each input or use all six for a single instrument.
The SansAmp Blonde Deluxe can be used as a pre-amp or stomp box for any amp/combo, power amp and speaker cabinet, or for direct recording. There's a 1/4-inch input and both 1/4-inch and XLR outputs with selectable operating levels plus an effects loop. The SansAmp Blonde Deluxe is phantom powered or uses an optional 9V DC power supply (Tech 21 Model #DC2), or 9V battery.
Tech 21 SansAmp Blonde Deluxe sells for $309 and is only available directly from Tech 21's Private Stock Division. Check: www.tech21nyc.com.
---
Web Page design is copyright © 2013 by Barry Rudolph