Telefunken Elektroakustik M80-SH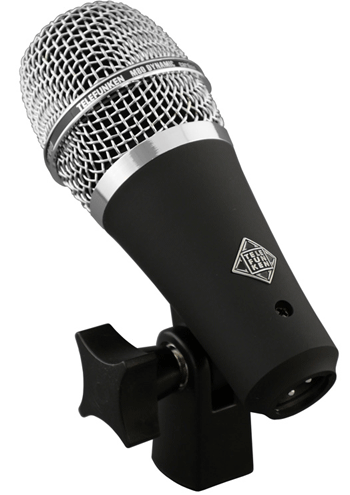 The Telefunken Elektroakustik M80-SH (pictured) and also the M81-SH are the new lower profile versions of the M80 and M81 Telefunken dynamic microphones. Their shorter lengths allow them to get in close--right where I like to put a microphone on snare drums and guitar amps. Their built-in mic clips and included 5 meter SGMC-5R XLR cable with right angle female XLR make tight miking in the studio or on stage a breeze in all cases and without compromise.
I tried the M80-SH in the same positions and applications as I would with a brand new Shure SM57. On snare drums I found it to have a clearer and more open sound that didn't compress as much as the Shure. I used the same amount of gain for each using the console's API mic pre-amps. The level of off-axis sound (leakage) from the kit's other drums and cymbals was about the same except the the M80-SH's off-axis sound was better. I tried M80-SH on rack toms and it reminded me of the Sennheiser MD-421U in many ways--it is less boomy and has more attack compared to a SM57 and seems already 'carved' (EQ'd)--I didn't feel I had to do any equalizing at all. I liked using the optional rim mount here--which you can't possibly use on the much larger and bulky 421!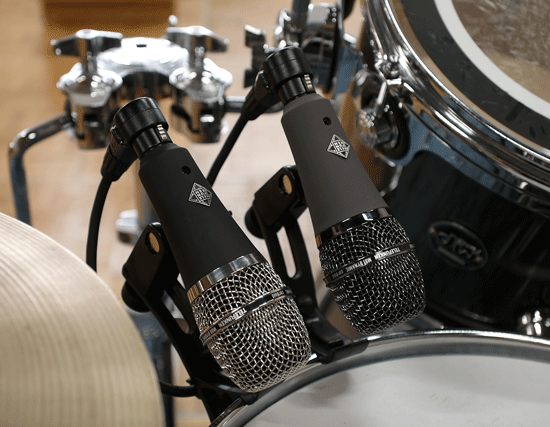 The ever so slightly brighter sound of the M80-SH necessitated aiming it further way from the dust cap towards the outer diameter of the cone of a Tone Tubby Red 12-inch speaker in the guitarist's amp. Definitely a good alternate mic for this--with less low mid-range buildup and no need to "rethink" the guitar sound or production because of using it. It just sounded great!
A great new and much lower profile dynamic, the M81-SH and MH81-SH are offered with either chrome or black head grills and each come with a leather microphone bag and 5-meter SGMC-5 XLR cable with right angle female XLR. They each sell for $249 MSRP. Check: www.t-funk.com.
---
Web Page design is copyright © 2013 by Barry Rudolph