Telefunken Elektroakustik XLR Cables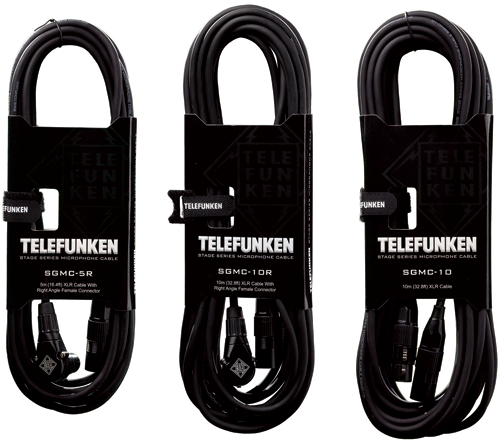 Telefunken Elektroakustik Stage Series microphone cables are for use on live sound stages and in recording studios--so they are tough and have 90-degree right angle female XLRs at one end for clean, low profile connection to mics placed in the tightest positions. Especially handy around drum kits, the cable conductor and shielding are made from 100-percent copper wire.
There are the SGMC-5R--5-meters with 90-degree right angle female XLR at $20; the SGMC-10R--10-meters also with 90-degree right angle female XLR; and the SGMC-10--10 meters with straight XLRs at each end and sell for $38 each.
The Studio Series Microphone Cable feature quad high-strand count, oxygen-free copper conductors sealed in low-loss polyethylene insulation. These cables are designed for studio and stage applications and are made in the USA by Accusound. There is the STMC-5--5 meters XLR $59 and the STMC-10 at 10 meters XLR at $75. Telefunken Elektroakustik at: www.t-funk.com.
---
Web Page design is copyright © 2013 by Barry Rudolph