Tronical Tuning Technology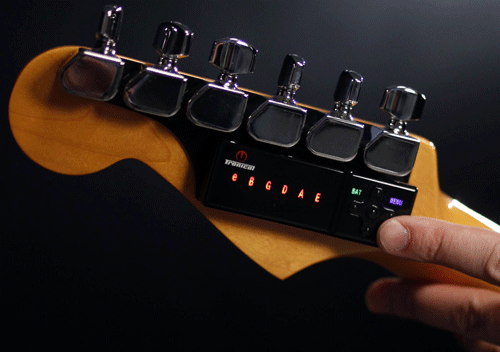 I call it a break through! Based on the new Min-E-Tune system from the latest Gibson models, Tronical presents Tronical Tune as a retro fit kit to bring perfect, automatic tuning to Gibson, Fender, Epiphone, Ibanez, Charvel, Taylor, Yamaha, and FGN, Stanford guitars with more models planned.
Tronical Tune is a guitar self-tuning system that installs in ten minutes without special tools, drilling or guitar modification and devaluation necessary.
Tronical Tune is a small compact battery powered tuning unit that mounts on the back of the guitar's headstock and is invisible from the front. Tronical says your guitar looks, feels, sounds and plays the same. Pushing one button gets the guitar in perfect tune within seconds.
Additionally the player has immediate access to 12 different alternate tunings plus 6 custom tunings.
Powered by an internal, rechargeable lithium-ion battery for up to 300 tunings, the system is a one-piece unit mounted on a plate along with six robot machine heads.
The Tronical Tune retro-fit-kit is available at the Tronical Components online store and at dealers worldwide for $299. Check: www.tronical.com.
---
Web Page design is copyright © 2013 by Barry Rudolph