ZT Amplifiers Extortion Pedal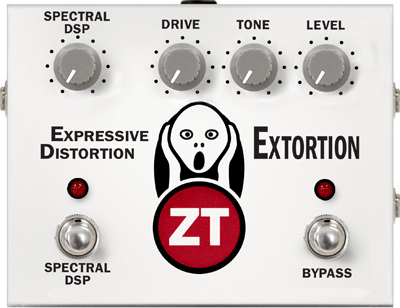 The ZT Amps Extortion Pedal is a clever combination of analog distortion, colorful tone control, and what ZT calls "spectral DSP".
In standard mode there is a vintage-style analog overdrive whose amount is set by the Drive control. With hot output pickups, distortion comes on quickly at about half way up on the Drive control when playing full power chords. A Fender Strat's lower output single coils allowed for more of a range of distortion from slightly overdriven sounds to fairly fuzzy sustain for leads.
The Tone control is not simply a more treble less bass or vice versus but a continuously variable control that sweeps through several different equalizer shapes and contours. A mid-range scoop is found all the way CCW while a thick mid-range boost is found CW--it's flat or no EQ at the center position. I liked the way this control works--simply and instantly gratifying.
Spectral DSP, when activated, connects in series before the analog section. Once engaged, it provides frequency-dependent distortion and it's easy to get crazy 'broken' guitar amp sounds reminiscent of an old Fuzz Face or a Lovetone Big Cheese pedal.
Set fully CCW, the Spectral DSP knob gets you added crunch on the low end--particularly good for drop tuned rhythm playing. Swing the Spectral DSP control towards CW and we got very static-like and fizzy high frequency distortion tones. Spectral DSP's control knob can also be controlled hands-free with an external expression foot pedal plugged into the Control jack on the side.
We liked the ZT Extortion pedal for its wide range of overdriven sounds using different combinations and settings of the analog and Spectral DSP sections. We found it "pedal board friendly" because when either section is switched off they are hardwired bypassed.
ZT Amps Extortion sells for $269 MSRP and for more check: www.ztamplifiers.com/products/extortion.html.
---
Web Page design is copyright © 2013 by Barry Rudolph