Audio-Technica New ATH M-Series Headphones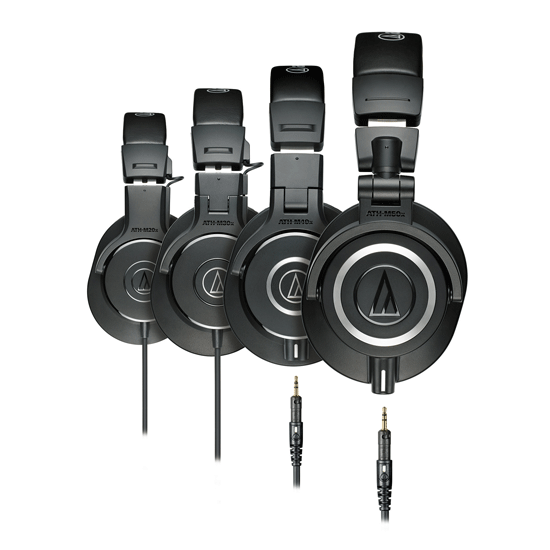 The new M-Series professional headphones from Audio-Technica are specifically designed for the recording studio and are available in four models to suit not only your budget but also their specific application in or out the studio. It is advantageous to have consistency in both sound and comfort for all the headphones used in your studio. Everyone in the session--from musicians, singers, producers, mixers, and engineers--will have the same sound.
Three of the new models are the ATH-M20x, ATH-M30x or ATH-M40x each with 40-mm drivers with neodymium magnets, copper-clad aluminum wire voice coils and the same operating impedance for consistent volume on a common headphone system. Top of the line is the ATH-M50x with 45-mm drivers and the same sonic signature of the original ATH-M50.
Perfect for a first-time buyer or student on the go are a pair of ATH-M20x ($69 MSRP/$49 MAP). These are a basic and solid set of headphones with excellent build quality and, like the entire line, use a circumaural design that provides good isolation from environmental noise or other singers and musicians in studio sessions. Like all in the M-Series, it comes with a 6.3-mm (1/4-inch) gold-plated adapter.
Great for live tracking and field recording are the ATH-M30x headphones ($99 MSRP/$69 MAP). They have a more focused and detailed mid-range sound that enables close scrutiny of audio quality. Both the ATH-M20x and ATH-M30x models have permanently attached 3-meter long single-side cable with the ATH-M30x including a carrying bag.
Mouse Over To Pause--iPad and Smart Phone Refresh--

-- Audio-Technica's New M-Series Of Studio Headphones--

Jump to the ATH-M40x ($139 MSRP/$99 MAP) and you step up to swivel ear cups for one-ear monitoring and a fully collapsible design. Great for DJ monitoring, these headphones transform into a minimal flatten profile for easily packing them in the included travel pouch and then into your backpack. They come with two detachable cables--a 1.2m to 3m coiled and a straight 3m cable. Besides the backup cable, they have a durable pro-grade headband ready for abuse if you must.

The ATH-M50x professional monitor headphone ($239 MSRP/$169 MAP) comes with all the features and kit of the ATH-M40x and is the epitome of the line. They also come with a short 1.2 m straight cable perfect for use with portable music players and come in black, white (nice for worship space use) and a limited-edition blue tinged model called the ATH-M50xBL ($259 MSRP/$189 MAP).

I've been using my set of ATH-M50x during a mix session here at my studio and I was impressed by the way they revealed details in the mix I missed while listening on my main monitor speakers. This is a good thing! I use headphones (among other monitor speakers) to verify that my mixes translate to outside the studio and sound as expected.

I like the smooth overall sound and especially the neutral bass response and I found that same sonic 'signature' with the M20x, M30x and M40x headphones. I got thumbs up from the musicians and producer on the project I was mixing all listening on all four models of the new M-Series headphones plugged in at the same time!

Any or all of the new Audio-Technica's New M-Series headphones make an excellent addition to any project studio. Check: www.audio-technica.com/monitorheadphones/.







---
Web Page design is copyright © 2014 by Barry Rudolph