Auralex HoverDeck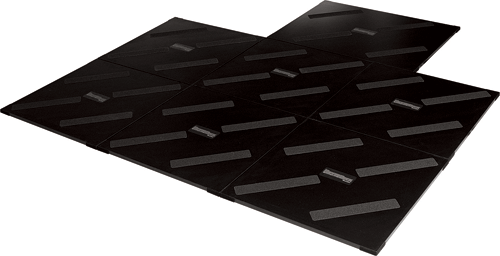 The Auralex HoverDeck™ isolates a drum kit from the floor or a hollow stage and reduces unwanted coloration from floor resonances. In a project studio, it will provide sound isolation by decoupling the drum kit's acoustic energy from vibrating the floor beneath and (possibly) your nearby neighbors.
The HoverDeck is made using a MDF (that's medium density fiberboard) laminate core platform panels placed on top of IsoPuck™ modular risers. This system minimizes structure-borne sound transmission and sympathetic vibrations between drums and hardware.
The HoverDeck is available in two models. For four or five piece drum kits, there is the HD-64Gig (shown at the right) made up of six, HD-22 platforms (measuring 23 3/4 X 23 3/4 X 1-inches) plus one HD-tc platform (measuring 23 3/4 X 31 3/4 X 1-inches).
For larger drum kits and touring applications, there is the HD-88Concert that uses 12 HD-tc platforms. Either model is offered with an optional rugged road case and you can buy additional pairs of HD-22 platforms and the smaller HD-s Satellites (measuring 13 1/2 X 17 1/2 X 1-inches) for customizing your HoverDeck to your very specific needs.
I like the way the two HoverDecks are quickly assembled and disassembled; it uses a set of low-profile isolating boards with optimally placed hook and loop fasteners. For more information, visit www.auralex.com.
---
Web Page design is copyright © 2014 by Barry Rudolph