Auralex HoverMat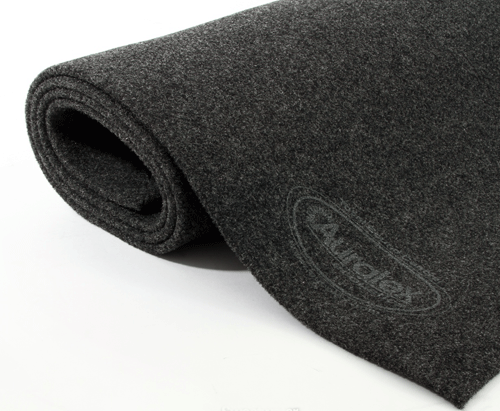 The Auralex HoverMat™ is a sturdy, slip-resistant drummer's mat that improves acoustical isolation and clarifies drum tone. HoverMat can be combined with Auralex's HoverDeck drum kit isolation system (reviewed in these pages) but either is useful as a standalone product. The HoverMat™ and/or HoverDeck™ isolate a drum kit from the floor or a hollow stage, reducing coloration from floor resonance and improving sound isolation.
HoverMat is a 4 x 6-foot section of Auralex sound-deadening SheetBlok™ sound barrier material, covered with charcoal gray Ozite-type, commercial-grade industrial strength carpet. SheetBlok is a limp-mass vinyl sheet of considerable mass density that rolls up easily for storage/packing. It is useful when deployed on the floors of live stages or project studios when additional sound isolation and deadening is required underneath drum kits, loud guitar cabinets, or keyboard setups.
HoverMat is ideal for iterant musicians, houses of worship, live performance venues, or anywhere a drum kit needs additional isolation. A single HoverMat weighs 28 pounds. It offers a non-slip surface on bare stages, and can be rolled up after use and carried in the included heavy-duty cinch sack. Much more at: www.auralex.com.
---
Web Page design is copyright © 2014 by Barry Rudolph