Avid Technology Pro Tools S3 Desktop Control Surface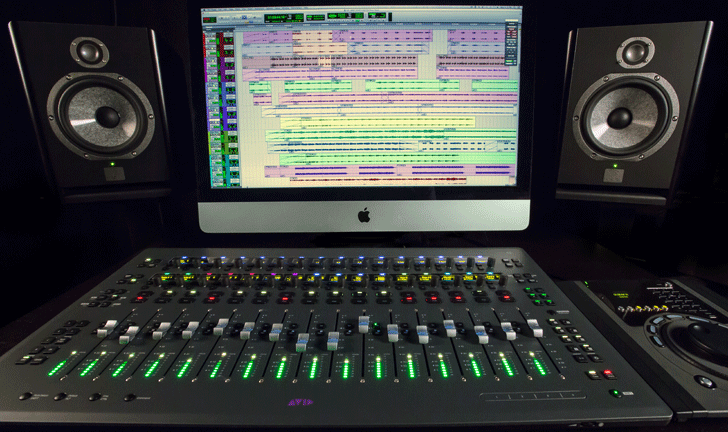 Based on Avid's S6, the compact Pro Tools® S3 is perfectly sized for project music studios and smaller post mixing/editing bays. Like the S6, the S3 features tight integration with Pro Tools software as well as control over other EUCON-enabled digital audio workstations such as Logic Pro X and Steinberg's Cubase.
The S3 borrows the look and style of the smaller Artist Series control surfaces but has 16 channels strips. These are touch-sensitive motor faders with up to six fader banks supported. Besides the 16 channel meters, there are 32 rotary controllers with LEDs and 32 high-resolution OLEDs for viewing parameters, track names/numbers, automation modes and more.
As a music mixer myself, I appreciate the S3's abilities to streamline and make more efficient use of my time when developing large music mixes with huge track counts. The S3 combines a traditional console layout with big time-savers like custom and recallable channel layouts, "on-the-fly" switching between two applications, and integration with the Avid MediaCentral Platform.
I especially liked the Touch strip for easy access to transport controls plus the many dedicated buttons and switches for navigation, automation, control assignment, and detailed Pro Tools software control. The S3 makes getting around Pro Tools even less mouse-intensive and my carpal tunnels thank you.
With a built-in 4x6 AVB Core Audio interface, 2 XLR mic/line inputs, 2 TRS and 2 XLR line outputs and a stereo headphone output jack, the S3 sells for $4,999 MSRP and represents Avid leading the trend in affordable pro-level controllers for music mixers who use Pro Tools 11 and other software DAWS in their daily routine.
More at: http://www.avid.com/US/products/protoolsS3/overview
---
Web Page design is copyright © 2014 by Barry Rudolph