BBE SM500 Sonic Maximizer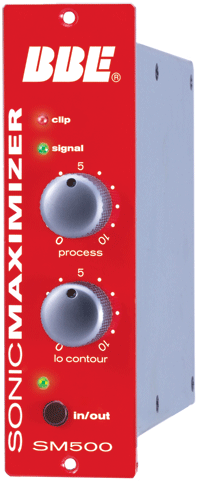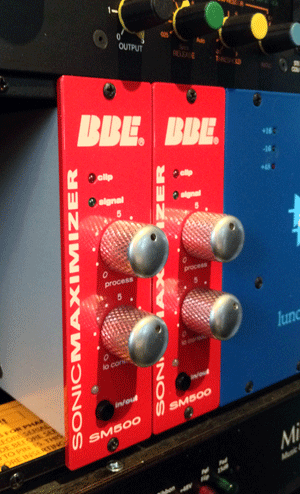 BBE's now offers their unique Sonic Maximizer in a single channel module for the 500 Series rack units. I've been a long time user of both the single rack space BBE 482i (-10dBv) and 882i (+4dB) Sonic Maximizer two-channel signal processors and I always had at least two channels inserted into my mixes or recording signal chains. Now as 500-series modules, I can freely add as many channels as I require--just plug additional modules into my API Lunchbox®.
The SM500 units retain the overbuilt design of the rack units with stylish red faceplates and knurled aluminum control knobs. The SM500 models use 1% metal film resistors, high quality coupling capacitors, and military-spec printed circuit boards with extra thick traces.
The SM500 BBE Sonic Maximizer processor brings clarity and presence to your music mixes or individual instrument and vocal tracks using two simple controls: Process and Lo Contour. It does this by splitting the audio into two separate bands, adjusting their phase relationships and augmenting high and low frequencies.
The latest circuit design is capable of +23dB output level and 118dB signal-to-noise ratio--essentially I could not overload it--its clip LEDs never lit once! The improved multi-band filter smoothly transitions from one filter section to the other with full 360-degrees of phase rotation possible through the audio band. This results in a flatter frequency response, better frequency time alignment, and improved clarity and focus in the 300Hz to 3kHz range.
I evaluated a pair of SM500s patched directly after a stereo limiter I was using for a special compression effect. Many times when heavily compressing, the overall audio is dulled--there is a loss of high frequencies. The SM500s worked great to restore this loss and the Lo Contour let me 'carve' the low frequencies exactly.
Like the original BBE 482i and 882i, I loved what it brings to the overall sound--it adds an indescribable "polish" and extra clarity to mixes, stereo pad tracks, brass sections, and overly thick and dulled, drop-tuned guitar tracks. It's not like equalization or compression but I'm finding it more indispensable everyday especially for processing mixes that are not going to be professionally mastered.
Using the unit is very intuitive--most of the time I ran the Lo Contour straight up or a little under the 12 o'clock position and the Process control somewhere between 11am and 1pm depending on how open I wanted the sound.
The BBE SM500 Sonic Maximizer is an excellent addition to any studio's 500-rack. It has the same processing engine as the award-winning BBE 882i rack-mount model and includes a bypass switch for comparing processed to unprocessed signals.
The BBE SM500 sells for $499.99 MSRP and for more, check: www.bbesound.com/products/sonic-maximizers/SM500.aspx.
---
Web Page design is copyright © 2014 by Barry Rudolph