CAD Audio AS16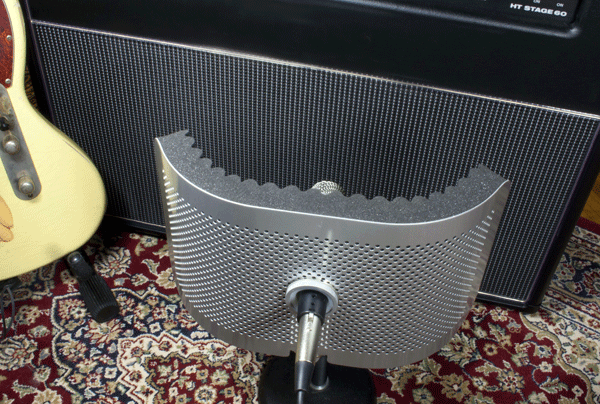 CAD Audio's AS22 and AS16 are the two latest models in the Acousti-shield stand mounted acoustic enclosure line. By using absorptive micro-cell acoustic foam (porous polyurethane), the Acousti-shields enclose and set up a dry, micro sonic environment surrounding the microphone. They are useful both in the studio and in live sound to reduce unwanted leakage or reflections that are also picked up by the microphone.
The larger of the two, the Acousti-shield 22 ($89 MAP), is a foldable stand mounted acoustic enclosure perfect for live sound and mobile applications. It uses a 16-gauge, perforated stainless steel shield mated to 53-mm thick high-density micro cell acoustic foam.
The smaller AS16 Acousti-shield (pictured and $69 MAP) is for studio recordings or on stages where a lower profile is desired. It uses a center-mounting system for a range of microphones from pencil condensers to the most popular dynamic instrument mics.
I tried the AS16 in a very ambient room to record a Martin acoustic guitar using the new CAD E70 ($129 MAP) pencil condenser microphone. I wanted to use the mic's omni-directional capsule to capture the guitar's entire sound plus some of the room's ambience. However since my guitarist plays loud, the omni pattern picked up a little too much of the room--an additional sound I would not be able to remove or reduce later.
I found that surrounding the mic with the AS16 reduced the room tone mixing with the direct sound coming into the E70. I tried the AS16 with the parabolic curve wrapping above and below the mic--that seem to kill the reflections from the floor.
Both the AS22 and AS16 are supplied with mounting hardware that allows for mic positioning flexibility, portability and easy set up. Check: www.cadaudio.com.
---
Web Page design is copyright © 2014 by Barry Rudolph