CruzTOOLS Stagehand Compact Tech Kit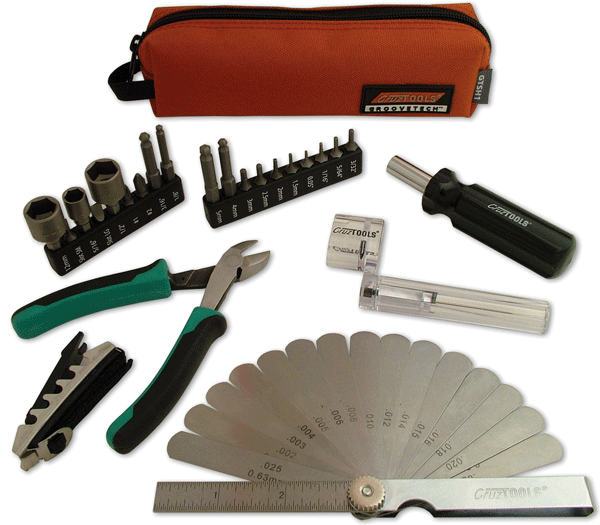 CruzTOOLS' new Stagehand™ Compact Tech Kit is an absolute no brainer for all guitar and bass players who are interested in keeping their instruments in perfect playing condition. Even if you're not into 'teching' your own guitar or bass, reconsider it because you can learn to do basic maintenance/repairs--all you need is a set of proper tools.
The Stagehand Compact Tech Kit are well-made tools that come in a durable zip-up pouch measuring 7 x 2 x 2-inches--you could actually carry it in your guitar case. It starts with a 19-piece magnetic bit set and screwdriver-style bit holder. The bit set includes hex wrenches, screwdrivers, and sockets in both inch and metric sizes that'll cover virtually all makes and models of guitars and basses. So you could work on just about any bridge, truss rod, tremolo system, and tighten a loose jack nut.
There is a capo and a precision set of 15-blade thickness gauges with integrated ruler for neck relief measurement--all necessary for truss rod adjustment. Also included are the GrooveTech String Cutter and string winder. The bit holder, cutter and winder all fit my small hands perfectly.
I own on a couple of guitars and they occasionally need some love--now I have all the right size bits to fit every screw and I'm starting to get the 'hang' of truss rod adjustment. Having the right tools all collected together is the key for me--no more hunting around for the basically the wrong tool that sometimes trashes a screw head!
The CruzTOOLS Stagehand Compact Tech Kit carries a street price of $34.95 MSRP--it's money well-spent and for more information, call 888-909-8665; or visit their web site at www.cruztools.com.
---
Web Page design is copyright © 2014 by Barry Rudolph