D'Addario Guitar Dock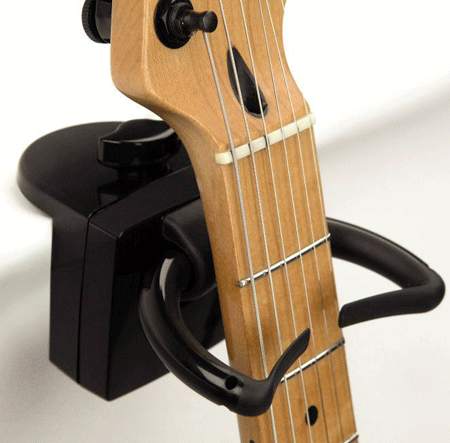 Leaning your guitar up against the nearest wall, table, amp or equipment rack makes it handy and, at best, also a temporary and precarious resting place. Avoid the worry of an accident with D'Addario Guitar Dock. Not a guitar hanger as I first thought by looking at it, the Guitar Dock is an instant neck cradle you can carry with you in your gig bag.
Your guitar's weight rests on the floor and then any solid flat surface such as a desktop DAW table or a desk edge or a bookshelf can be utilized to accept the fully adjustable U-shaped clamp of the Guitar Dock.
By utilizing a 360-degree rotatable neck cradle, it allows for universal mounting at any angle such as a vertical rack rail or angled furniture. The durable rubberized molding protects both the instrument and mounting surface's finish. A great idea when floor space is too tight for a guitar stand, the Guitar Dock also folds up into a 4 X 4-inch square for travel.
The Guitar Dock sells for $42.99. MSRP. For more information, please visit: www.planetwaves.com.
---
Web Page design is copyright © 2014 by Barry Rudolph