Drumfire DHB6500 Drum Hardware Bag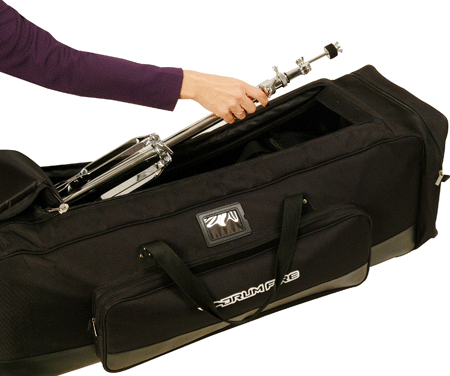 Drumfire has their newest hardware bag, the DHB6500. The DHB6500, the CB4000 Backpack Cymbal Bag and the CBT4200D Deluxe Cymbal Bag complete a line of luggage for the itinerant drummer.
The heavy duty DHB6500 hardware bag handles and collects all the hardware for a standard 5-piece kit. Up to eight stands or mounts fit into its large foam-lined main compartment, which features a collapsible divider to help organize and protect hardware.
There is an end compartment sized to fit a standard round throne seat, while an additional external zippered side compartment holds drumsticks, keys, trap gear, tools etc.
Constructed primarily of tough padded Cordura nylon material, the DHB6500 bag measures 38 L x 14 W x 10 H inches and features a rigid polymer reinforced spine with wheels and an integrated handle for the easy transport of up to 100lbs of gear.
The Drumfire DHB6500 sells for $109.95 MAP.
Check: www.musicpeopleinc.com for more musicians accessories.
---
Web Page design is copyright © 2014 by Barry Rudolph