Eventide DDL-500 Digital Delay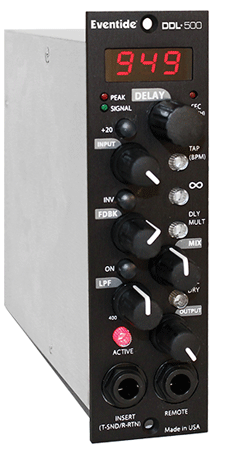 The DDL-500 is an Eventide digital delay line for 500-series racks. The DDL-500 features up to 10 seconds of mono delay using a 192-kHz sample rate and includes analog goodies such as: soft saturation clipping, low pass filter, feedback, insert loop, relay bypass, and +20 dB of output boost.
The DDL-500s digital circuitry is kept at a minimum--just the chips necessary for delay. Delay times can be varied smoothly using the control knob or by connecting an LFO to the remote input. You can dial short delays to be used for comb filtering and flanging effects and vary the delay time--old-school style--with a function generator (LFO).
The DDL-500 is also capable of extremely long delays (up to 160 seconds at a 16 kHz sample rate) for capturing long passages for lo-fi looping. From short delays for double tracking, to spacey long delays, swept delay trickery and tape echo style effects, the DDL-500 brings it all in a single 500 series slot. Awesome!
For more about the DDL-500, check www.eventide.com.
---
Web Page design is copyright © 2014 by Barry Rudolph