FabFilter Pro•Q2 Equalizer Plug-In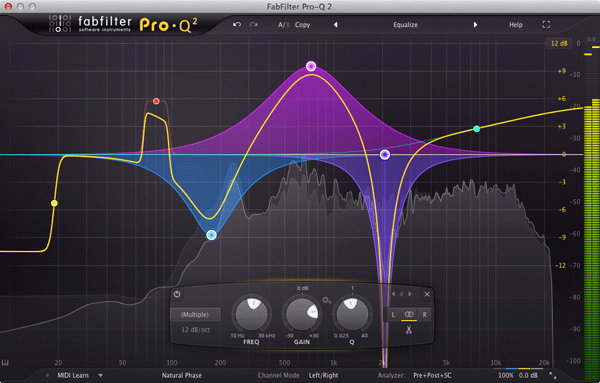 With much more going on "under the hood" than appears at first glance, FabFilter's Pro•Q2 significantly updates their popular Pro•Q equalizer plug-in (Reviewed Here). Twice as CPU-efficient as the original Pro•Q and using less memory, the redesigned internal filter engine improves both the existing Zero Latency and Linear Phase processing modes and now adds a unique Natural Phase mode. Natural Phase emulates the amplitude phase response of typical analog EQs without introducing noticeable pre-ring or longer processing latencies.
Great for mastering applications, one visible new feature is the full-screen mode for getting up close and personal with your carefully sculpted EQ curve. I like Auto Gain--it automatically compensates for the audible gain boost/loss by active EQ bands and is an honest way to A/B or compare EQ changes. There is more detailed and nuanced Gain-Q interaction between the different filters--just as with analog hardware EQs, and the new FabFilter Pro•Q2 adds more slope curve choices for all filter types. For intensive sonic surgery, you can construct ultra-narrow bell filters or very steep shelves with slopes of up to 96 dB/Oct.
I was impressed using the new Spectrum Grab feature--a way to directly access any peak (or dip) in the spectrum analyzer display and instantly insert a corrective EQ curve at that frequency. This is "instant gratification" equalizing.
Another winner I'm starting to use more is EQ Match in which another track is sent to Pro•Q2's side chain input (key input) that'll allow you to match (or duplicate) the EQ curves used on another track. This works very well to match a vocal EQ on a new track to an existing (old) track with an unknown EQ setting. Great when song files (recorded and produced by someone else) are sent for a remix project and you're required to match the old vocal EQ when recording/mixing a new one.
Pro•Q2 maintains everything from the original FabFilter Pro•Q. There are up to 24 EQ bands, multi-band selection, separate (linkable) channel EQ in L/R or M/S mode, real-time spectrum analyzer, intelligent solo mode, double-click text entry, stereo/mono plug-ins, and Pro Tools hardware surface support.
FabFilter worked hard on this update and it shows! Their plug-in family keep getting better and more awesome, FabFilter Pro•Q2 sells for $199 MSRP (download) for both Windows and Mac OS X in VST, VST 3, AU, AAX, RTAS and AudioSuite plug-in formats. Existing FabFilter customers can purchase or upgrade (at a discount) to Pro•Q2 or buy handy bundles of their great plug-ins at: www.fabfilter.com/myaccount.
---
Web Page design is copyright © 2014 by Barry Rudolph