FabFilter Pro•G Gate/Expander/Ducker Plug-in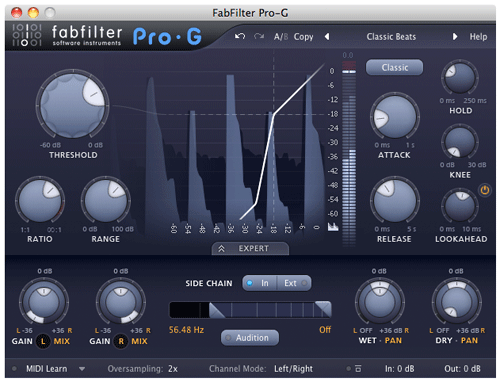 FabFilter has updated their Pro•G gate/expander plug-in to include 'ducking' capability. Ducking works like an inverted gate--when threshold is crossed, the signal itself is ducked down. Using its side chain input, a typical application of ducking is to automatically lower the level of a musical background track when a voice-over starts, and return the level back up again when the voice-over stops. Ducking can also be used to achieve the popular 'pumping' effects, used in Electronic Dance Music.
I've used it to duck only the sound of the snare drum when it is (normally) heard in the overheads microphones on a live kit recording. I did this to completely get rid of the snare's tone in the overheads when I replaced the closely-miked snare drum track with samples.
FabFilter Pro•G is the best gate/expander I have in my Pro Tools 11 plug-in folder. It has a great GUI, expert side chain signal conditioning, and precise metering--you get a constant, graphical display parading across the front of the GUI! It shows continuously the action of the gate and its affect on the audio.
Awesome!
There is linear-phase oversampling for better sound quality and mid/side processing. I also found nearly zero crosstalk from the side chain input signal--a good thing!!!
FabFilter Pro•G is available $174 MSRP download and works in both Windows and Mac OS X in 64 and 32-bit, VST and VST 3, Audio Units, RTAS, AudioSuite and AAX 64 Native. Check: www.fabfilter.com/shop.
---
Web Page design is copyright © 2014 by Barry Rudolph