FabFilter Pro•L Limiter Plug-In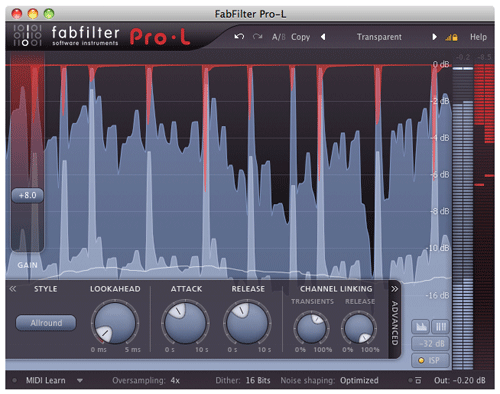 FabFilter adds to their line of professional mastering and mixing plug-ins with the Pro•L limiter. And like all their plug-ins, Pro•L has a highly visual real-time GUI display that shows what is exactly happening to your audio so as to more accurately set up the limiting process.
The broad usefulness of FabFilter Pro•L limiter is due to the four advanced limiting algorithms--each with their own distinct character.
Depending on your mixing style and the music's aesthetic, you could use the Transparent style to maintain the original sound balance and feel but with minimum coloration while an opposite style would be Punchy--which introduces very hearable and vibey pumping artifacts and flavor. Said to be the best style for Rock music, the Dynamic algorithm enhances transients before limiting and lastly, Allround is a safer algorithm that minimizes distortion while still making your music loud.
Pro•L has adjustable look-ahead time, attack, and release controls plus separate and adjustable controls for stereo linking of the two channels' transient components--the short peaks in music program and their release time settings. You can chose to stereo link the left and right channels transients and release limiter parameters in a range of 0 to 100%.
Pro•L has different expanded meter scales that indicate both the peak and RMS levels of output and gain reduction in dB. There are also the three K-System scales (K-12, K-14 and K-20) that show headroom in 12, 14 and 20dB of headroom.
To achieve maximum loudness in the safest possible way, there is an accurate inter-sample peak detection (ISP) output level meter that predicts peak level distortion likely to occur after D/A conversion at the CD player or via your MP3 encoding processor.
I found Pro•L very useful beyond the stereo mix bus of my Pro Tools sessions! Pro•L comes to the rescue for 'reigning in' difficult lead vocal recordings that were much too dynamic to sit within a densely produced backing track. Double-tracked and harmony lead vocals also seem to mesh better with the lead vocal when using (sometimes) massive limiting. For vocals, I found Pro-L to be very transparent with minimal added distortion (within reason) using any of the styles and parameter settings.
Complete with dithering and noise shaping capabilities, FabFilter Pro•L is available for EUR 169, USD 229 in both Windows and Mac OS X in VST and VST 3, RTAS and Audio Units plug-in formats.
Check: www.fabfilter.com/shop.
---
Web Page design is copyright © 2014 by Barry Rudolph