Focusrite iTrack Pocket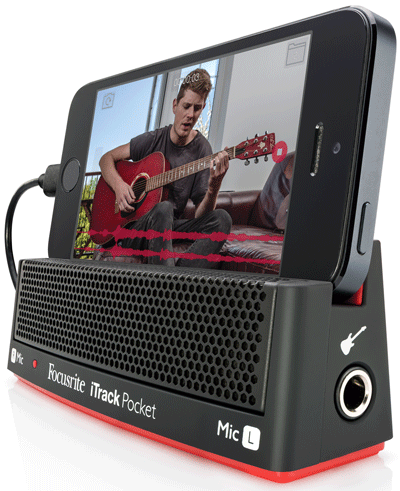 Focusrite's iTrack Pocket is a small, desktop cradle system that holds and positions an iPhone 5 (or later) for taking video selfies. Exactly the same width as the iPhone is tall, the iTrack Pocket contains a stereo microphone with a record level control and a 1/4-inch (DI) direct guitar input jack. With the Focusrite app Impact (downloadable free from iTunes) installed and the iPhone connected and powering the Pocket using an included, short Lighting/Mini USB cable, you can record wide-angle videos of yourself (or friends) performing in front of it and also capture a wide stereo sound field to match the image.
In addition, the Impact app offers three basic modes of audio recording: Stereo Mode with built-in stereo microphones captures a performance event instantly, Guitar + Mic mode where both the direct guitar signal and mics are recorded, and Guitar only mode where the mics are muted and just the DI input is recorded. Impact also provides guitar amp simulators such as Twin, Brit, and V-AC with individual controls to enliven your DI guitar sound.
An obvious "must-have" for singer, songwriters and musicians for capturing inspiration when it happens, the Pocket and Impact let you easily edit your video and apply mastering effects such as small room reverb, vocal doubler, enhancer and compression to the audio. I found using the iTrack Pocket simple to use and great for recording good sounding videos. Once recorded, I did a little editing in Impact and then uploaded the video to YouTube™ or used an AirDrop app to share (locally) with friends over Wi-Fi or Bluetooth.
The Focusrite iTrack Pocket sells for $125 MSRP and for more information, check out: www.focusrite.com/itrackpocket.
---
Web Page design is copyright © 2014 by Barry Rudolph