Focusrite iTrack Dock Studio Pack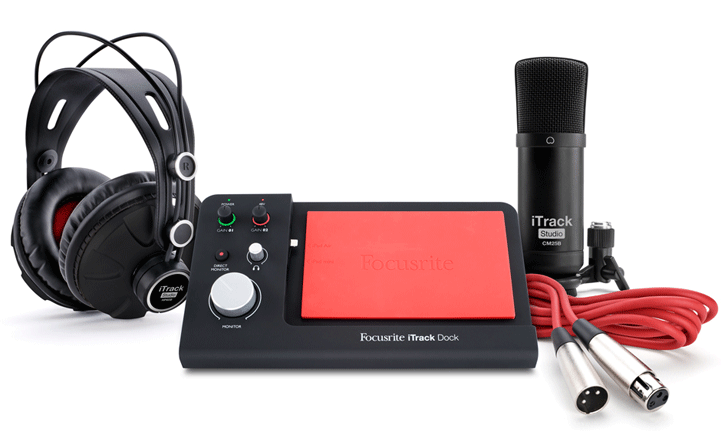 Focusrite's iTrack Dock Studio Pack, when paired with a 4th generation iPad, iPad Mini, or iPad Air, is a complete recording studio you could easily carry in a small backpack and record anywhere and any time.
The Studio Pack comes with Focusrite's iTrack Dock with its two Focusrite Scarlett microphone pre-amps (XLRs), two line inputs and instrument direct input. There are balanced TRS main monitor outputs, an independent stereo headphone output jack, plus a USB port for connecting class-compliant MIDI instruments/controllers.
You'll need a microphone to record vocals, guitars and drums. The Pack comes with the Studio CM25B side-address condenser microphone with a 1-inch diaphragm capsule and a professional stand mount bracket plus 3-meter XLR mic cable. I found this compact microphone to be perfect for recording vocals or acoustic guitar.
You can record in stereo with the iTrack Dock using Focusrite's A-D/D-A conversion with over 105dB dynamic range and up to 24-bit/96kHz sample rates.
For latency-free monitoring, grab the included HP60B Studio closed-back headphones with leatherette cushions and extra long connecting cord. You'll be direct monitoring yourself whilst in record straight to the both the headphones and main monitor outputs.
With its built-in Core Audio driver, the iTrack Dock works with any Core Audio app like GarageBand, Cubasis, Auria or the included Tape app by Focusrite. There is 48-volt phantom powering to power your CM25B mic (as well as a second condenser) and use Scarlett's futuristic-looking Gain Halos--hypnotic 'rings of light' around the input gain controls for easily setting recording levels.
Thoughtfully, Focusrite includes a red-colored pad/spacer to cushion the iPad whilst in the Dock making the overall iTrack Dock system solid-feeling and stable. The red color theme is continued with a Scarlett-red XLR cable and red speaker cloth inside the headphones--all very posh!
Using Focusrite's Tape App (free download), I recorded a direct guitar connected to Input 1 and a vocal using the CM25B mic in Input 2. There is plenty of gain to record the quietest of sources as well as when my singer went into turbo loud after warming up. I had to reset record levels lower and the HP60B headphones have plenty of volume to handle monitoring loud sound sources and performances as well as quiet, soft moments.
Returning to my studio, I plugged the iTrack Dock directly into a pair of Genelec 8010As powered monitors. The onboard volume control has plenty of range to 'crank' up the speakers when initially scrutinizing audio detail. After some basic chopping (editing) in the Tape app, I was ready to share the recordings using iTunes sync as a way to transfer (ultimately) out to my main DAW, Pro Tools 11 HD.
If you have an iPad and want a complete portable recording studio/DAW system ready to go, the Focusrite iTrack Dock Studio Pack is the one. It sells for $299 MAP. For more information check out: http://www.focusrite.com/.
---
Web Page design is copyright © 2014 by Barry Rudolph