Mackie CR3 and CR4 Monitors
The CR3 and CR4 are Mackie's new Creative Reference™ Multimedia Monitors that feature studio-quality design, sound and performance in small, desktop-sized all-wood cabinets. The two models, the CR3 and CR4, have 3 and 4-inch woofers respectively and both use the same 3/4-inch silk-dome tweeter. Both CR monitor models have a curved high-frequency waveguide for a wide and even stereo sound that's well supported with good bass due in part to the rear bass port.
The diminutive CR3 and CR4 stylistically match my larger powered Mackie MRmk3 Studio Monitors. Besides size, the CRs have a front panel lighted on/off/volume control knob since they are designed to be close to you, right on your desktop on either side of your laptop, tablet or computer's screen.
I received a set of both the CR3 and CR4s--they are sold in pairs with one speaker powered and containing the stereo Class-AB amplifier, master volume control, and front-mounted aux input and headphone jacks. The companion passive speaker connects to the powered speaker by way of an included cable.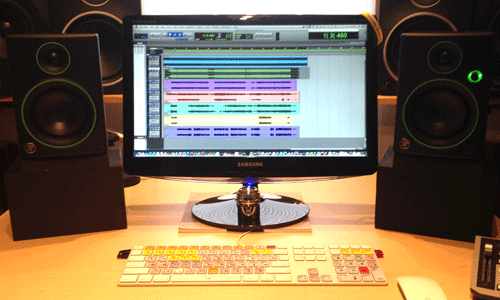 I liked the thoughtful left/right speaker placement switch on the back of the powered monitor. It allows for positioning the powered speaker with its controls and jacks either on the left or right side of your DAW screen and then allows you to designate which speaker is playing the left or right channel's audio. Sonically both speakers are the same and this feature also facilitates connecting the system to the nearest and most convenient AC outlet--and there is no wall-wart! Awesome!
The front panel on/off/volume knob has a lit power indication ring and also controls the volume of headphones that I plugged directly into the front of the monitors. If I have a music file downloaded on my iPhone, I can plug a cable (included) from its headphone jack into the Aux Input jack on the front of the CR4 and play it out loud--straightaway. I also liked plugging my low impedance Audio-Technica ATH M50X headphones into the 1/8-inch mini jack to act as an additional headphone amp on my studio's desktop. The speakers automatically mute when the headphones are in use.
The back panel has a master power switch and both balanced TRS and unbalanced RCA input jacks for the left and right channels. You can have all inputs connected at the same time--a very handy thing since they will play all at the same time if need be.
I used the CR4s at my mixing/listening position on either side of my flat panel monitor. They make a great "second opinion" comparing what my mixes sound like on my mains to what is sounds like on smaller, more consumer-level speakers.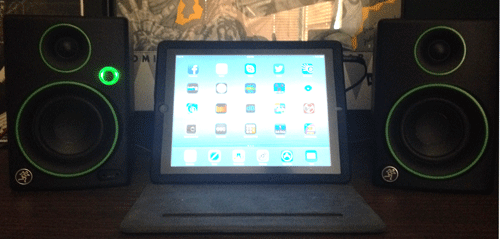 I deployed the CR3 pair in my office connected to my iPad. Again I placed them on either side of the screen so that could I stream mixes over Wi-Fi from my studio and listen using to them the iPad's Web browser. The CR3s also make great portable stereo speakers any of the audio/video apps I have installed on the iPad or for bigger sound when watching NetFlix™. I connected the CR3s to the iPad's headphone jack using the included cable that has a 1/8-inch mini plug at one end and a pair of RCA plugs at the other.
Creative Reference monitors come with all the necessary connecting cables needed. Also included is a pair of foam acoustic isolation pads that mechanically decouple the CRs from the desktop they are sitting on to minimize unwanted bass buildup. Plus, the pads tilt the monitors slightly up or down from their positions if you require. To enhance bass-deficient TV audio program sound, I sometimes allowed the CRs to couple (without the pads) to a wood table surface.
I've been finding these Mackie Creative Reference Multimedia Monitors useful here as well as for portable uses--out on the patio for parties or for louder sound when watching sports on TV with friends. They are easy to set up, are well built and have a pro look.
They are available now; a pair of CR3s sells for $129 MSRP and the slightly larger CR4s are $199.99. For more information, visit http://cr.mackie.com.
---
Web Page design is copyright © 2014 by Barry Rudolph