Mackie Thump Series Powered Loudspeakers
Mackie's Thump12, Thump15 powered loudspeakers (right) and the Thump18S powered subwoofer crank! The new Thump Series delivers over 1000W of power and that's more than twice the power of the originals.
For DJs and musicians, a pair of the full-range Thump12 and Thump15 models will cover most small to medium-sized rooms. For PA systems in larger venues, add more Thump15s and a Thump18S subwoofer (or two) for maximum levels and a powerful low end.
Thump systems include precision crossovers, transducer time alignment and a unique 3-band EQ with a frequency sweepable mid-range control. Thump12 and 15 speakers can be deployed either pole-mounted over the audience's heads or as floor monitor wedges for live stages. They have combo mic/line inputs, are lightweight yet tough, and easy-to-carry and setup.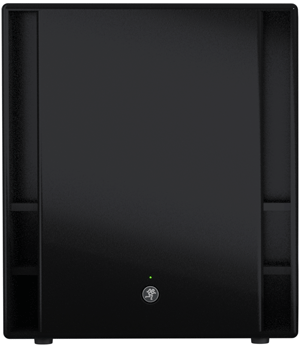 The new Thump18S 18-inch powered subwoofer (left) has 1200-watts of power and uses a professional band-pass design for delivering high-output, deep and rich sounding room-filling bass. There's ample system protection in place and a wide range of connection options that makes adding and expanding any system easy.
The Thump18S is designed to match any combination of Thump12 and/or Thump15 top boxes but you could also use them to augment any existing sound system.
The Thump12 sells for $389.99 MSRP, Thump15 at $469.99 and the Thump18S at $879.99. For more information, check: www.mackie.com/products/thumpseries.
---
Web Page design is copyright © 2014 by Barry Rudolph