Mesa/Boogie Three New Guitar Pedals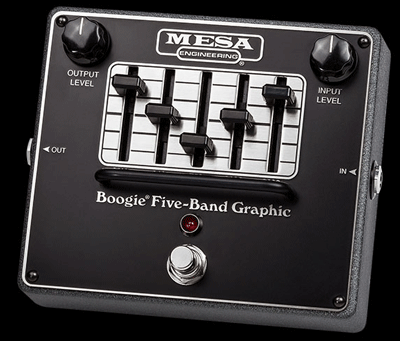 The Boogie® Throttle Box EQ™, Five-Band Graphic EQ and Flux-Five™ are the newest pedals added to Mesa Boogie's line of award-winning guitar pedals. The original Throttle Box™ gain/distortion pedal adds a five-band graphic equalizer--the same tone shaping power and hand-built quality as the graphic EQs found in Mesa's high-end amplifiers. The five frequency bands each with +/- 12dB boost/cut are: 80Hz, 240Hz, 750Hz, 2.2kHz, and 6.6kHz. There is also a global Mid Cut control in addition to EQ.
Also new is a standalone pedal called the Boogie® Five-Band Graphic™ EQ with input and output gain controls that are settable from +6dB or -40dB. This is the Mesa/Boogie on-board graphic EQ from their amp contained in a pedal. Try the Flux-Five™, a variant of the original Flux-Drive™ overdrive but rethought with the addition of Mesa Boogie's five-band graphic and foot-switchable, Hi/Lo performance modes. The additional Hi Mode with Trim control is new in this Flux-Five version.
The three pedals each sell for under $300 MAP. For more, visit www.mesaboogie.com.
---
Web Page design is copyright © 2014 by Barry Rudolph