Rob Chiarelli Signature Series Mix Buss Lite 2.0 Plug-In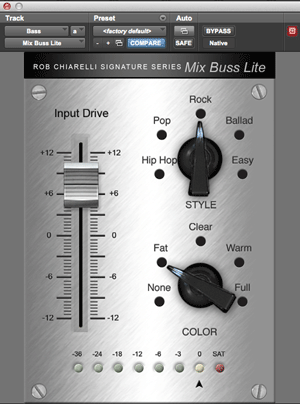 Music producer/mixer Rob Chiarelli has the first in his Signature Series of DAW plug-ins called Mix Buss Lite. Designed to go across the stereo output bus of your DAW mixer to increase the average loudness of your music mix, Mix Buss Lite 2.0 comes as AAX (Pro Tools), AU for the Mac and VST for Windows.
Mix Buss Lite has simplified controls that allow you to use your ears and not fancy metering and what you "see" as the correct setting. The Input Drive fader sets the amount of loudness boost as indicated by the "Sweet Spot" meter--the orange and yellow lights will flash/glow with occasional red Sat (saturation) blinks.
Mix Buss Lite also offers a range of "coloration" effects. Here it mimics the way different analog gear (tube and transistor compressors and EQs) overload when processing and handling hot levels coming into them. This level-dependent saturation effect is a big part of Pop music mixing and there are four choices on Mix Buss Lite. You can select Fat for accentuating the upper and lower frequencies; Warm seems to thicken mixes in the bass; the Clear color is full range but with less saturation than Fat mode; the Full color is like Fat except it's louder and with more bass extension. Which one you select and how much you crank the Input Drive have everything to do with your mix's final sound.
The Style selector has five different sets of preset attack and release timings called: Hip Hop, Pop, Rock, Ballad and Easy (Listening). Attack and release time settings greatly affect the overall sound of dynamic processing and these presets maximize Mix Buss Lite's operation for the particular genre you're interested in.
I found great functionality with Mix Buss Lite beyond the stereo mix bus. It works great for bass guitar and stereo sub groups in Pro Tools 11HD--stacks of backing vocals and guitar layers all sounded tighter and "fit" better into a big mix. Cranked up, Mix Buss Lite has a constraining effect on harmonically dense program material by way of limiting and adding saturation.
Mix Buss Lite is easy to use and gets to work straightaway for any musician, composer, songwriter, artist and engineer who wants good and competitive sounding mixes quickly.
It sells for $19 as a download from: www.finalmix.biz/Final_Mix_Signature_Plugins/Home.html.
---
Web Page design is copyright © 2014 by Barry Rudolph