Neumann U 47 fet Re-issue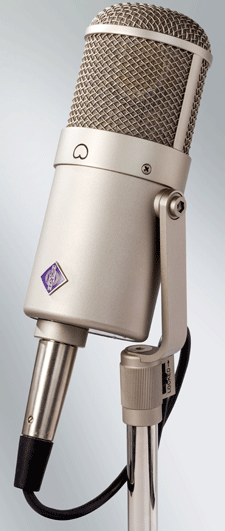 Originally produced as the transistorized successor to the classic Neumann tube U 47, the U 47 fet allowed for recording high sound pressure levels directly in front of loud drums and guitar amps.
Neumann has reissued their Collectors Edition U 47 fet made according to the original production documents and schematics. The Collectors Edition is supplied with a high-quality wooden case with special packaging and an individual certificate noting the serial number of the microphone.
The U 47 fet is a cardioid condenser microphone with the same fet 80 circuit technology as used in Neumann's U 87. Also as in the original microphone, the K 47 capsule (also from the tube U 47) is used--it's a double large-diaphragm capsule with a slight boost in the range above 2 kHz.
All the same features of the original model are kept: a switchable low-cut 40 to 140 Hz filter, a switchable -10 dB capsule attenuator, and also a switchable -6dB output attenuator.
The U 47 fet is a beauty and it comes in classic nickel and sells for $3,999.95 MSRP. For more information, check: www.u47fet.neumann.com.
---
Web Page design is copyright © 2014 by Barry Rudolph