Zivix PUC Wireless MIDI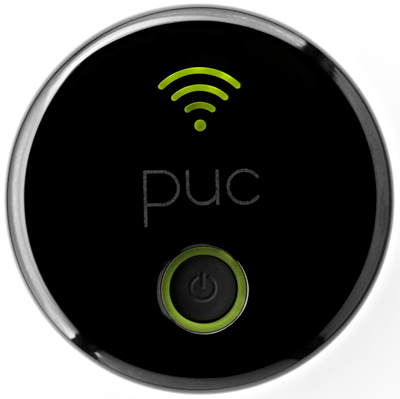 Zivix has a wireless link system called PUC to connect MIDI musical instruments with iOS devices. An iPad, iPhone or iPod Touch running iOS 7 loaded with music creation applications, synths or virtual instruments become 'plug n' play' wirelessly using Core MIDI over WiFi and your resident MIDI controller or computer MIDI sequencer.
Not only is PUC a portable wireless data transmitter system, it is an interface with a legacy 5-pin DIN connector that'll adapt any MIDI gear to trigger iOS Core MIDI devices. So you can repurpose old MIDI gear and, at the same time, expand the iOS connectivity of your iPad or iPhone wirelessly with PUC's super-easy to configure app.
I've wanted to integrate my music instrument apps loaded into my iPad such as IK Multimedia's SampleTank and iGrand Piano and others for use in my studio sessions in Pro Tools. The PUC system will work with Garageband, Moog's Animoog, Waldorf's Nave, or Propellerhead's ReBirth as well. I can now integrate these applications from across my control room and record them into Pro Tools using the iPad's analog (headphone) output jack. Awesome!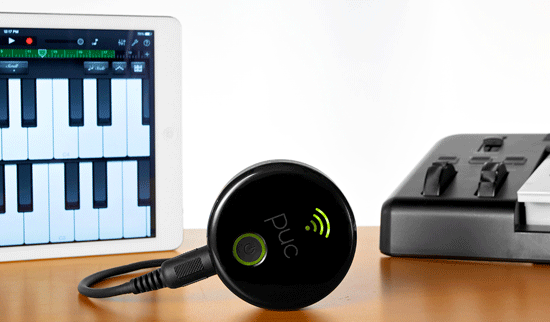 For this first look, I borrowed an old M-Audio Oxygen 8 v2 controller. It is USB-powered (or from a wall-wart) and also has a MIDI Out/In DIN jack on it. Once I programmed the proper MIDI channel out, I then set up a WIFI connection from the PUC to my iPad. The PUC shows up as "MiPUCB25E" in my list of network choices and, once selected, the PUC App indicates that I'm ready to start controlling my iOS instruments running in the iPad. This setup and connection could not be easier.
PUC connects to your legacy MIDI controller or interface with a short MIDI cable and runs on two AA-batteries (both included). For more permanent installations, you can keep the PUC always on and ready to go by using its micro USB jack for powering it.
I like the battery-powered portability because I always carry my iPad to school and PUC is the size of a hockey puck and easily travels along. At school, all I would need is either a MIDI controller or I could plug the PUC directly into the studio's MIDI interface to play my iPad. Other uses are: conveying wirelessly MIDI controller data from drum pads, DJ controller, floor pedals or sustain pedals or basic switch closures. This is great for live presentations because it happens wirelessly! Since PUC outputs iOS Core MIDI, the uses are limited only by your imagination and what apps you have running.
One upgrade might be a battery-saver mode that powers it down with periods of long inactivity--but when is that going to happen---ever? Awesome idea and product--highly recommended!
The PUC sells for $129.99 MSRP and is available from: www.mipuc.com.
---
Web Page design is copyright © 2014 by Barry Rudolph