Samson Technologies Meteorite USB Condenser Microphone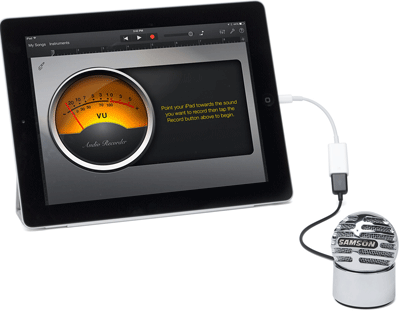 Samson's Meteorite USB condenser microphone is the perfect desktop companion for capturing my voice for Skype, FaceTime, podcasting or creating videos. It is the baby brother to Samson's Meteor tabletop USB microphone.
The Meteorite is a small orb, less than two-inches in diameter and sits in a magnetized cradle-base so it can be aimed at you or swiveled in any direction to capture sound. It has a cardioid polar pattern and is available in several colors including my choice, chrome. I have mine just in front of my QWERTY keyboard tilted up at me. It has a 14-mm diaphragm and a flat frequency response for CD-quality (16-bit, 44.1/48kHz) audio.
I use mine for Skype, Audio Companion and Rogue Amoeba's Nicecast Broadcast software. It has a great sound--best yet for a desktop USB microphone. It pickups my voice anywhere (assuming I have the input level up in System Preferences/Sound). I like the small green/red signal present and peak LED that shows when it's connected and working.
With a non-detachable USB cable, it's ready to work without need of a driver and is compatible with most computer-based digital audio software. It's lightweight and pocket size make going mobile and recording on an iPad a breeze. Get Apple's Lightning USB Camera Adapter or Camera Connection Kit and your set. The Samson Meteorite sells for $39.95 (street price). Check: www.samsontech.com/samson/products/microphones/usb-microphones/meteorite/.
---
Web Page design is copyright © 2014 by Barry Rudolph