Samson Technologies Expedition XP106W Portable PA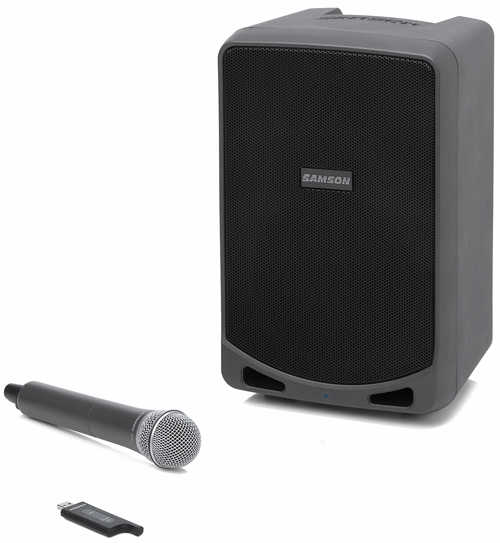 The Samson Technologies Expedition XP106W Portable PA adds a couple of modern features and expands their line of portable PA systems. I have previously reviewed the Samson Technologies Expedition Express in these pages before and the XP106W is like a big brother.
Where as the Expedition Express weighs in at 10-pounds and measures about 8 3/4 wide X 8 D X 12-inches H with a 6-inch woofer and 1-inch tweeter, the new XP106W is 13.5 W X 13.5D X 20-inches H and weighs 21-pounds. Like the Expedition Express, the XP106W can be pole-mounted using a standard 1 3/8-inch speaker stand. The XP106W has a rechargeable battery for up to 20-hours of continuous operation and its Class-D amplifier supplies up to 100-watts of audio power to the 6-inch woofer and 1-inch tweeter. The XP106W comes with a handheld USB digital wireless microphone system and also a Bluetooth® input for playing audio/music directly from any BT-enable device.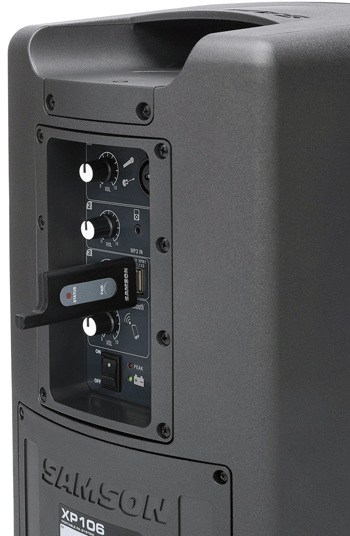 I especially liked the rear-panel's built-in 4-channel mixer for dialing in just the right combination of up to four input sources. Input 1 has an XLR Combi jack for using either a microphone, keyboard or direct guitar. Input 2 has both 1/8-inch and 1/4-inch line input jacks for connecting your MP3 player, the Line output from another XP106w, or your external mixer's output bus. The rear panel also has an on/off switch, battery level LED indicator and charging power supply connector (included).
The control knob for Input 3 sets the level from a Stage XPD1 USB Digital Wireless system that operates on 2.4GHz using an included USB receiver stick. The handheld microphone transmitter runs on two AA-batteries and uses Samson's Q6 mic capsule; it works as far as 100-feet away from the XP.
As a side note, the Stage XPD1 receiver stick can be used in any USB port in any computer and with your iOS devices if you have the camera connector kit.
Lastly, Input 4 is for the included Bluetooth® system that mates quickly using a blue BT button on top of the speaker. Use this for streaming music directly from your phone.
The XP106w also has a Line Out jack to cascade multiple systems together for wider area coverage--all audio in the master XP106W is conveyed to a satellite powered speaker(s) such as Samson's Auro D208 2-way active loudspeaker. There is also a Music/Speech switch for optimizing the sound for either speech (public address) or full-range music playback with full low frequencies and proper bass reproduction.
I immediately set up the XP106W for an audio/video presentation in a small conference room--this system's portability is perfect for deploying in any space for an impromptu meeting. An assistant played music from his Samsung phone over Bluetooth--he could actually remotely fade the music level up/down from his seat on cue from the lecturer. Awesome!
I next had a garage sale and the XP106W provided the day's music background and it was nice not to have to find power for it out on my driveway--and occasionally I used the handheld mic to announce bottom line "take it away specials"--as the day wore on. Also awesome!
Samson Technologies Expedition XP106W Portable PA is a modern approach to setting up a music sound system/PA wirelessly most effortlessly!
It sells for $299.99 MSRP and much more about it is at: www.samsontech.com/samson/products/portable-pa/expedition-rechargable/xp106w/.
---
Web Page design is copyright © 2014 by Barry Rudolph